Want to try your hand at longboard skateboards? We review the best 2020 longboards available now. Searching for the best priced longboard skateboard and unable to decide?
The market has become crowded, and while having lots of choices is good, it can be confusing as well. But no need for that as I've rounded up the top boards you can buy right now. Without further ado let's take a look at these longboards.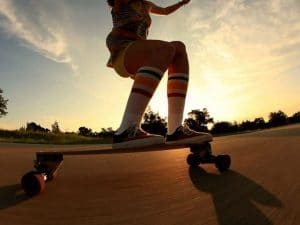 Best Priced Longboard Skateboard For You.

Performance:
The Super Cruiser is a longboard that lives up to its name. It is smooth and suitable for beginners and advanced users. The trucks' mount elevates the deck higher than on a typical longboard. This enables you to do sharper turns while getting that surf-like sensation.
The Super Cruiser works fine out of the box though you can adjust it. The deck itself is well designed, from the intricate artwork to the glossy finish. The bearings and wheels offer excellent traction.
Specifications:
Bearings: Super fast ABEC 7.
Trucks: 7-inch aluminum trucks.
Deck: 7 ply super flex bamboo and hardwood maple deck.
Material: 44″ Artisan Bamboo Longboard.
Color Options: black, multi-color, green, purple.
Pros:
Solidly built.
Usable out of the box.
Beautiful deck.
Excellent bearings.
Good traction.
Cons:
The wheelbase is rather short.
Wheel bolts very tight.
If you need to know the in-depth analysis of this product review in more detail, please read our article Quest Skateboard Review.

Performance:
The Spirit Wolf is already assembled so you can use it right away. The wheels are smooth and respond to your movements nicely. It's possible to switch the trucks, wheels, and bearings, but they're all right as is. The board handles well and feels sturdy too.
Wood construction is solid, plus the drop down design allows you to increase the speed quickly. The 9-inch aluminum alloy trucks provide extra stability even when you're riding at top speed.
Its wheels are larger than those on the average longboard and make it ideal for beginners while allowing you to perform tricks.
Specifications:
Deck: natural wood.
Length: 41 inches.
Hanger: 180 mm.
Hardness: 78A.
Alloy: aluminum.
Bearings: chrome.
Pros:
Lightweight.
Handles nicely.
Stable.
Durable design.
Pre-assembled.
Cons:
Base graphics need improvement.
Bearings are just all right.
More details of the products for your thorough understanding and buying decision you may skim through our article Yocaher Longboard Review.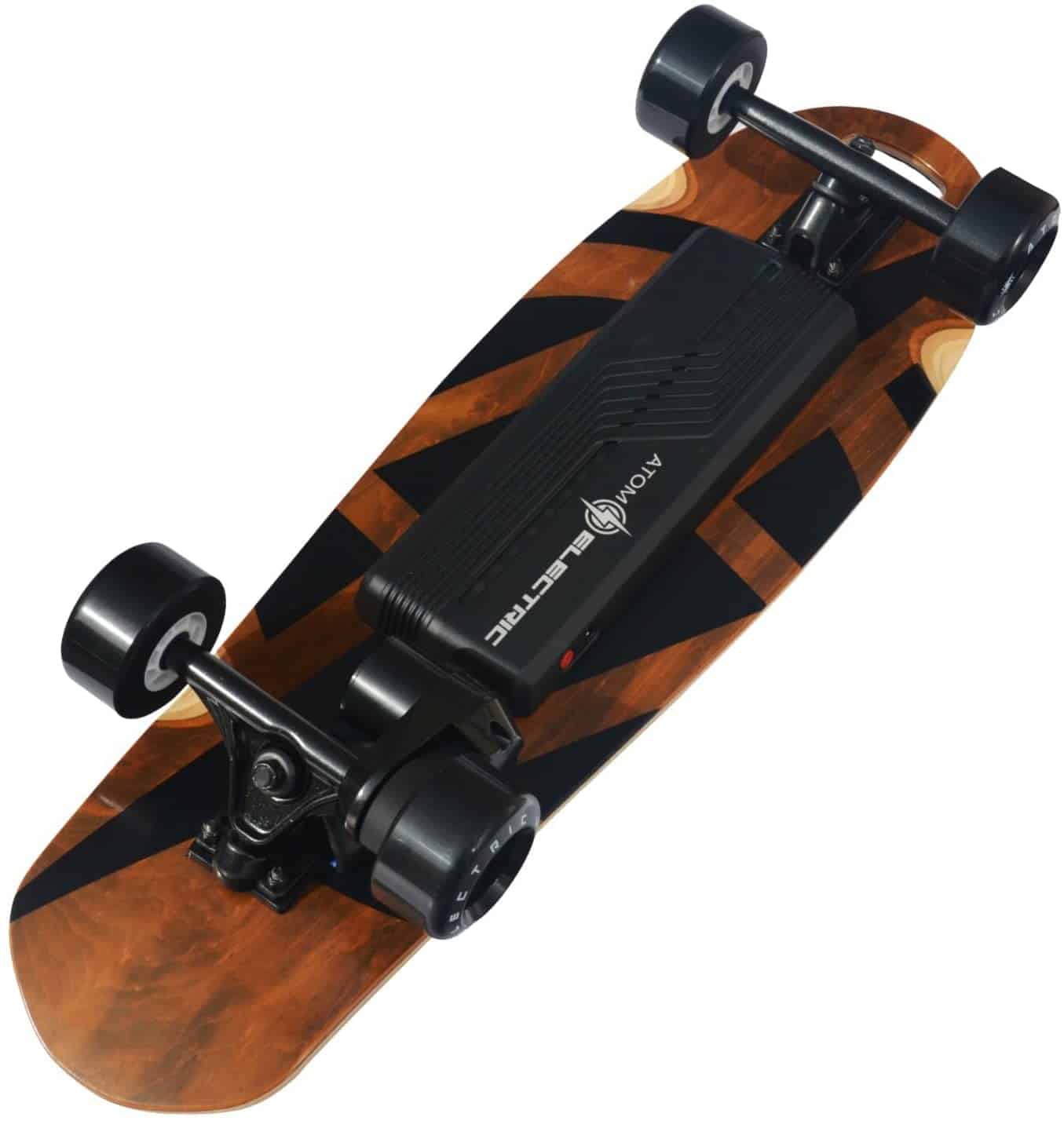 Performance:
With a 1000W motor and speeds up to 16 mph, the B.10 offers excellent acceleration while still keeping you in control. With its sine-wave controller, you can brake and speed up when you want. The B.10 is also equipped with regenerative breaks that charge the lithium batteries.
The board has a solid feel to it and you'll have no problems controlling the speed. Even for a first-timer, the handling won't cause problems. Make sure the board is charged fully if you want to go 16 mph though.
Specifications:
Length: 30 inches.
Watts: 1000 watts.
Motor Type: belt drive.
Max Grade: 12%.
Max Range: 7 miles.
Max Speed: 16 mph.
Pros:
Powerful motor.
Dependable batteries.
Excellent brake.
Good bearings.
Reliable performance.
Cons:
Not that good at hill climbing.
Remote response slow sometimes.
Performance:
The Pro Longboard is ready to roll out of the box, and with its 8 layered maple wood frame, you're assured it is built to last. The longboard also has durable aluminum alloy trucks that allow you to cruise through varied landscapes, cruise downhill and traverse corners.
Thanks to the length and width of the board you can move your feet and balance yourself and not worry about falling off.
The Pro Longboard is equipped with ABC bearings so you're assured of superior and consistent performance.
Specifications:
Board Dimensions: 41"(L) x 9.5"(W) x 3.75"(H) x 0.5".
Weight: 7.5 pounds.
Deck: drop through.
Bearings: ABEC.
Material: maple.
Pros:
Durable built.
Ample length.
Well balanced.
Easily goes around corners.
Already assembled.
Cons:
Trucks could be more durable.
Limited design options.

Performance:
The SCSK8 runs quietly and efficiently, combining flat spot resistance. The ball bearings are excellent and the handling is suitable for amateur and professional longboarders. Because the   SCSK8 is pre-assembled you'll be able to use it out of the box.
The stated weight capacity is 220 lbs but many users over that limit have been able to use the board without problems. The board has a solid concave which makes up the limited flex, and the trucks are of good quality as well.
Specifications:
Material: 7 ply maple.
Trucks: 7-inch aluminum.
Bearings: SCSK8 Precision ABEC 9 Red B.
Wheels: 70MM PU.
Dimensions: 40 x 9 inches.
Pros:
Multiple design options available.
Durable built.
Smooth performance.
Allows for smooth turns.
Responsive.
Cons:
The weight limit is only 220 lbs.
Not enough flex.

Performance:
The 42-inch Freestyle is a versatile longboard with the right combination of foothold and speed. With its OS 780 GripTape, you'll remain steady while cruising. Your performance is also aided by the 78A PU wheels and the trucks. Together they keep the longboard gliding quietly and safely.
The stability makes it ideal for beginners and the smoothness is consistent. Feedback is good and it is also sturdy. Advanced skaters will appreciate its versatility going uphill or downhill. Gliding is pretty good too.
Specifications:
Dimensions: 42″ long x 9.5″ wide.
Wheels: 70mm x 51mm 78A PU.
Deck: 9-Ply full maple laminated.
Trucks: 7″ top mount aluminum.
Pros:
Multiple colors and design options.
Steady and stable.
Beautiful design.
Rides well on various surfaces.
Good balance.
Cons:
Limited flex.
The packaging is too small.

Performance:
The Playshion is an all-around longboard for cruising, gliding and going freestyle. This longboard is also perfect for those who like to do curves, slides or just cruise. The longboard has some flex and it's also sturdily built. The trucks are top notch and handle slides and turn with ease.
Its mounting drop through design gives it a 4-inch ground clearance, and it is stable enough for a beginner. The board's size also means anyone can use it no matter the height.
Specifications:
Length: 39 inches.
Weight capacity: 250 lbs.
Bearings: ABEC 7.
Trucks: 7-inch aluminum.
Wheels: 70 x 50 mm SHR 78A polyurethane.
Deck: 8 ply flex hardwood maple.
Pros:
Suited for curving and sliding.
Comes in different styles and colors.
Wheels are durable.
Beautiful design.
Responsive turns.
Cons:
Deck feels a bit thin.
Bearings could be better.

Performance:
The Ten Toes Zed offers a stylish cruising experience, and at 44 inches gives you lots of space. This bamboo and maple deck is flexible and its maneuverability is among the best in its class. The Zed has fully assembled so no need to tweak the board.
The reverse kingpin trucks are responsive and complement the wheels as you glide, curve and turn. The wheel wells also cut down bite impact and go far in improving maneuverability when speeding.
Specifications:
Length: 44 inches.
Trucks: 7-inch aluminum.
Bearings: ABEC 7.
Deck: maple and bamboo.
Wheels: 70 x 51 mm BSA PU.
Pros:
Steady performance.
14 color and design styles.
Striking deck design.
Lightweight.
Rugged built.
Cons:
Some customers say the wheels need some tightening at high speed.
Barely adequate packaging.
In this regard, about the Ten Toes Longboard, we have a separate review article which is more informative. So, read and enjoy our exclusive article Ten Toes Longboard Review.
 Performance:
The Atom Drop is the follow up to the 41-inch version. Sporting extra underfoot and more concave, you get an extra performance boost. The graphics have been upgraded and the weight capacity is now up to 275 lbs.  The trucks are well designed and add to the riding experience.
The Atom Drop is great on a variety of surfaces. While not built for downhill use it's actually effective and goes up to 15 mph or so. The board is beautifully designed and the bearings/wheels combo works fine. Bottom line is the board rolls smoothly and without jerkiness or sudden breaking.
Specifications:
Length: 40 inches.
Grip: 46 coarse.
Bearings: ABEC 9.
Wheels: 78A – SHR 51 mm wide 70 mm diameter.
Trucks: 180 mm hangers, base 40 degrees.
Deck: bamboo and maple laminate hybrid.
Pros:
A good amount of flex.
Suitable for advanced riders and beginners.
Stable even at high speeds.
Excellent grip.
Solid trucks.
Cons:
Bearings are average.
Some trucks tightening needed before use.
Conclusion:
So there you have it, my picks for the best priced longboard skateboard. They've all got something special to offer which makes them stand out from the rest. As to which one is the best, I leave that to you to decide. But no matter which you choose, you're bound to have a blast.