What is the best skateboard deck? Yes, the question has been roaming around my mind for quite a time now. Don't worry! You will be saving a lot of time reading this article rather than doing intensive research on your own.
Skating was one of the many hobbies I used to bear in my childhood. Ever heard of a show named "Zeke and Luther"? Yes! I idolized that show when I was a child and dreamed to be the best skateboarders of all time.
So, to be a skilled rider, one just has to have a firm skateboard with cool trucks, wheels and not to mention decks. In this article, I am going to give you an idea about the decks only.
Some of the Best Rating Skateboard Decks
Since skateboard decks are the main area where you will balance your body weight. It has to be sturdy, durable, and long-lasting according to your skating.
We have rounded up some of the best skateboard brands and gave detailed reviews of the products. Grab some popcorns and enjoy the reading!

If you want to act like a badass in front of your friends with your cool skate deck, then I'd suggest Vision Groholski is the perfect model for you. They have been manufacturing skateboards since the year 1980.
Their designs are so soothing that you can hang your skateboard on the wall and produce a nice outlook. It is available in four different types of colors.
It's a top-notch made in the USA product. The lightweight property of this deck will get you to do any kind of flip tricks.
It consists of advanced truck holes and a concave structure that holds your body into a fixed position in a time of need.
The deck's dimension is given by 10.25 x 31.25 inches and a wheelbase of about 16 inches. Not to mention, its design is the most eye-catching among all the decks.
We all heard of the great Frankenstein monster! This design will look cool when you roam around it in the streets.
Pros:
Sturdy, durable body
The truck hole pattern and the concave shapes give you the riding flexibility
Weighing about 4 pounds, this model is lightweight compared to others
Cons:
The item might be somewhat costly
The package does not come with a grip tape

This is my personal favorite. Baker Company produces skateboard from the year 2000. Founded by Andrew Reynolds, they manufacture decks, wheels, and many other skating kinds of stuff.
The material of this product is made up of 7-ply maple wood. The design is simple but gorgeous. They printed their logo for their advertising and you will get a nice grip while standing on it.
The dimension of this deck is 8-inch width and 32-inch length. A nice surface area for the skater to show off his/her skills. It is accessible in two shadings- black and white.
It has nice durability, which means it will withstand any kind of road surface without a single scratch.  From my personal experience, I'd say this is the best skateboard for beginners'.
Weighing about 2 pounds, this model is also considered to be lightweight. This has to be the case so that the skaters can have a nice speed and agility.
Most important of all, this product has many ratings and marked itself as an amazon's choice. Baker skateboards are e bit highly-priced considering their features.
But I assure you, once you manage to buy one, you won't have to think about buying another one for a long time. What is the best skateboard deck? People often reply to naming this model and that includes me also.
Though I am saying my opinion, yours can be different.
Pros:
7-ply maple wood deck for better friction
Great skating deck for any beginners'
Amazon's top-notch product
Available in two colors
Cons:
The package does not come with a grip tape
Highly-priced
They are made from the highest quality bamboo, so we can say it is ecofriendly. A bamboo skateboard deck consists of 6-ply bamboo and maple wood which enables it to sustain any forces exerted on it.
It is also a perfect model for any beginner. There are three types of bamboo skates- can't skate, green fish, and moso. All three of them come with an antique design.
It has a deeper concave angle which allows full control of your skating. So, when you are about to show your skills in the streets, you will feel confident.
When it comes to sizes, they provide you with the most options. The levels are: 7.75 x 31.5 inches, 8 x 31.75 inches, and 8.25 x 32 inches. The package comes with the dimensions 31.8 x 9.4 x 4.7 inches and weighs about 3 pounds.
This model is also very reasonable in price ranges. So if you are looking for an affordable skate, bamboo is the one that you look for.
Well, to sum up, it is a flexible, lightweight, durable, and friendly deck that will improve your skills day by day.
Pros:
3 pounds weight, which is lightweight
Has the capability of withstanding any kind of mechanical stress
The longevity of several years
The model is made from very eco-friendly bamboo
Reasonable price
Cons:
The shape of the decks are pretty odd
Tyler surrey is one of the famous skateboarders of all time. Throughout his skating career, he has met many sponsors and sk8mafia was one of the time. This model is one of the most popular and that is because of this legend.
If we talk about the deck's design, this model has been printed with a sticker of a cool jersey picture and the number. The customers are very fond of this because of this outlook.
A nice gradient color background adds up quite a fashion to the board. This deck is manufactured with a block of 7-ply maple wood. It also has a grip tape included in the package.
This helps the skaters to balance themselves during many of their tricks. In one word, it is a professional skateboard deck but also a nice gesture for beginners'.
Its dimension is given by 8.1 x 32 inches and the package also includes some additional stickers if you want to try them on. Sk8mafia offers many skateboard models throughout the years. But this is one of the proudest product they have ever made.
Pros:
7-ply maple wood construction which gives its durability
Grasp tape is remembered for the bundle
It is a professional skateboard deck, but also suitable for the beginners'
Advanced stickers are also included in the package to change the deck's design
Cons:
A serious costly model contrasted with the others
5. Ztuntz skateboards "Bucktee Plankton Park Skateboard Deck:

If you are looking to buy a skateboard for your children. I'd suggest Bucktee Plankton will be the perfect model for your child's first board. The design speaks for itself that it is made for children.
Now let us talk about its features. It has got many options in colors- Green, Purple, Black, and White. 7-ply maple wood structure made this design quite strong.
All the materials that are used in this are found in the USA and designed from the basis of skateboarders' performance deck. The riders will not face any difficulties to perform any of the Ollie Pops.
To sum up, you can say it is the best skateboard deck for the street. The most joyful thing is that it can be used anywhere other than the streets. For example, parks, skating stadium, etc.
Its dimension is given by 31 x 7.5 x 2.25 inches and weighs about 2.5 pounds. So another feature of this great board is that it is lightweight. The price is also very reasonable and this product is available on amazon.
So what are you waiting for? Let your kids have his/her first board!
Pros:
Strong and durable because of the 7 ply maple wood construction
Lightweight and capable of any kinds of tricks
Comes in many amazing color choices
Cons:
From a customer's point of view, it is claimed to be a bit heavy
Element is one of the renowned skateboard brands of all time. In its manufacturing process, it uses top-notch materials to ensure its sustainability.
If you look at the design, the product certainly speaks for itself. Wind, Water, Fire, and Earth. The phrase means that it can withstand any kind of obstacle nature is turning against it.
Additionally, the 7-ply maple wood is also ready to face severe environmental conditions. The design also consists of the company's logo and three sets of color combinations.
The board's dimension is given by a width of 7.5 inches and a length of 31.25 inches which is the perfect size for all the skaters to feel comfortable. The nose is 6.8755 inch and the tail is 6.25 inch which also makes it aerodynamic.
In the case of beginners, it gives quite a nice space for them to get habituated to all the tutorials. Despite this board being quite thick, it does have so much less weight and it is easy to carry around in any place.
The package also comes with free grip tape which allows the rider to skate safely and not get hurt.
Pros:
Lightweight, easy to carry around
A cool design that gives it a great outlook
7-ply maple wood construction
The longevity is well guaranteed
Cons:
The price of this model is something to be concerned about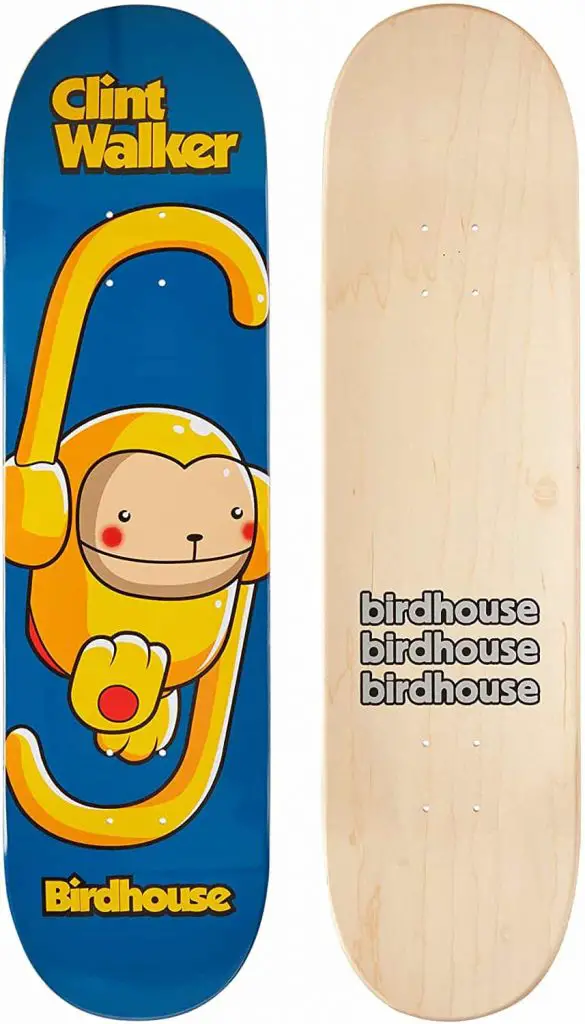 Another company in the competition is Birdhouse. They offer one of the finest quality products made from the maple woods of the graded materials. To be noted, this model is built with a plank of 7-ply Canadian maple wood.
Likewise, this walker monkey deck is completely made in the USA model and has an amazing design sticker attached to the board. Whatever the platform you throw at it, it has the property of adapting to any kind of surface.
Its dimension is given by 32 x 8.25 x 6 inches and weighs about 3 pounds. This brings us to a common advantage that it is easy to carry around everywhere.
One of the best things about this skateboard company is that their products come straight from the distributor. So you will not be fooled by any third party once you order one.
This company also provides you with a guarantee because they carry no defects while manufacturing. So, without any worry, you can order a birdhouse skateboard and have some "on-air fun" with it.
The deck features a W-concave shape with not much of a width. But still, most customers claim this model.
Pros:
Guaranteed from any kinds of manufacturing defects
Materials used are quite durable and sustainable
Lightweight
Cons:
The deck has less width which might be a problem for some skaters to step their feet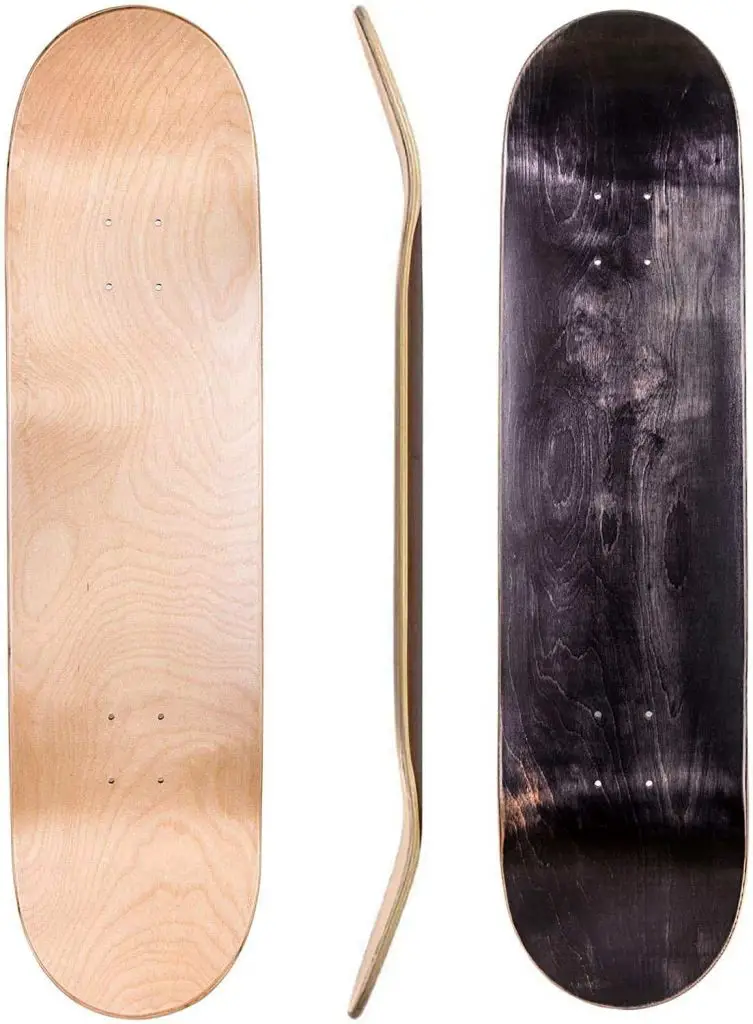 If we account for a cool classic look for the skateboard, then we can go for this model. The Cal 7 Blank Skateboard comes in various sizes- 7.75 inch, 8.0 inch, 8.25 inch, and 8.5-inch decks.
In the case of colors, how many options do you need? Just ask! The color variations are- Black, Nature's friend green, Red, and Blue. In my opinion, Cal 7 provides more options than any other skateboard brands.
The model also comes with grip tape for the comfort zone of the riders. No need to buy it separately. You can create a board with the styles according to your choices to attract other's attention.
The durability is no less than any other board. It consists of seven layers of maple wood which allows it to withstand any weight of the riders.
The board is in the shape of a popsicle and is symmetrical to support any kind of skating tricks. Its dimension is given by 32 x 10 x 3 inches and the weight is almost 7 pounds.
Now here comes the main drawback of this model. From my research, I found out that this model weighs very much but still not that much of a problem for the skaters to carry it around.
Pros:
Comes in variable sizes
Variations of color
7 layers of maple wood make the model durable
Cons:
This model is a bit heavy compared to the others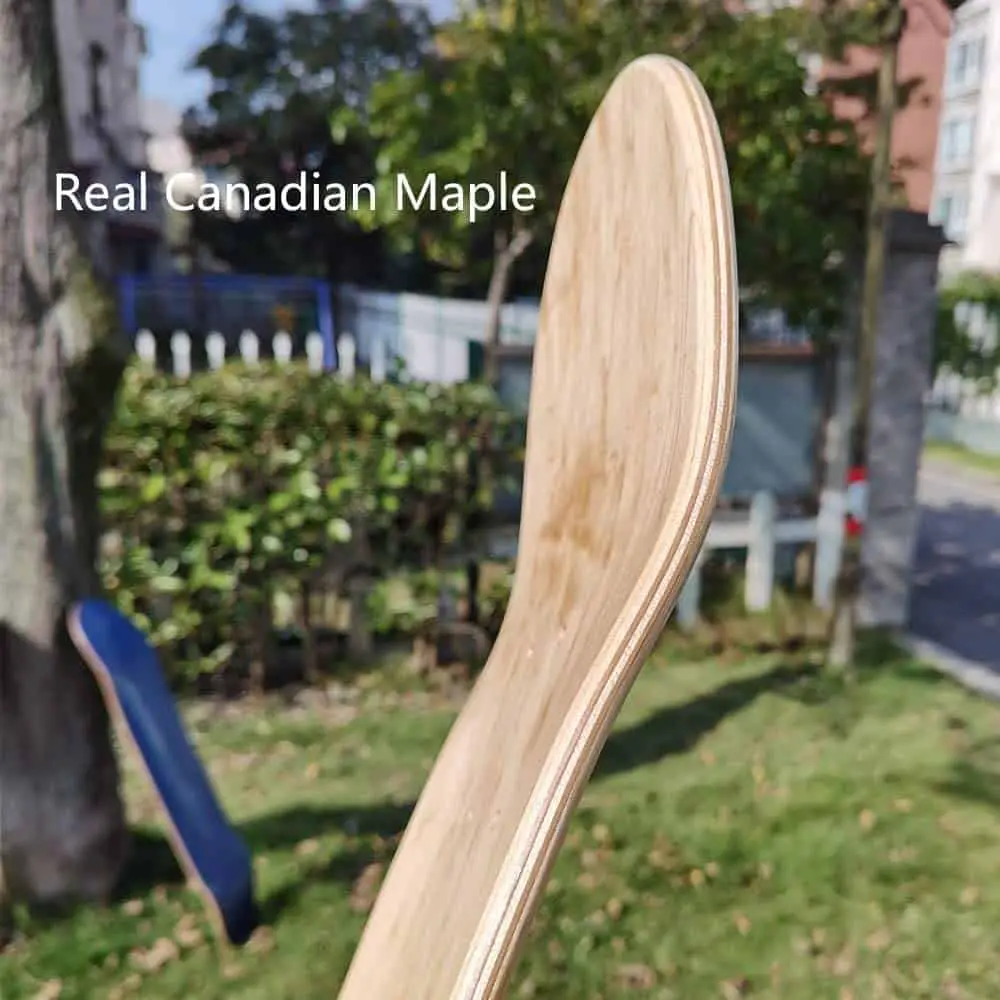 This model is also made from 7-ply maple wood and is considered to be one of the demandable decks considering all the features.
Skateboard manufacturers produce the decks so that you face a minimum amount of difficulties. Ice Dragon does nothing less than that. The tips and bottom are of a mellow concaved shape.
It also provides you with many different sizes- 8.0″ inch, 8.25 inch, and 8.375 inches. The wheelbase is 14.25 inches. This lightweight deck will accompany you doing many hard skateboarding tricks.
It has the durability to adapt to any road surface. Parks, streets, stadiums, etc. Any platform there is, you just name it and the Ice Dragon will do the tricks.
The color variations include red and natural wood color. If we talk about the wood quality, it is so smoothly furnished that you can modify the looks if you want to.
Some customers want to spray paint their board. This deck is applicable for that kind of stuff and it has been proven. This model has the capability of withstanding a weight of 280 lbs and also they deform.
Pros:
Sturdy 7-ply maple wood construction to bare any kind of mechanical stress
Variation of colors
Variation in sizes
Greater width, also, they come in options
Cons:
Color may fade after using it for a long time
The package does not come with a grip tape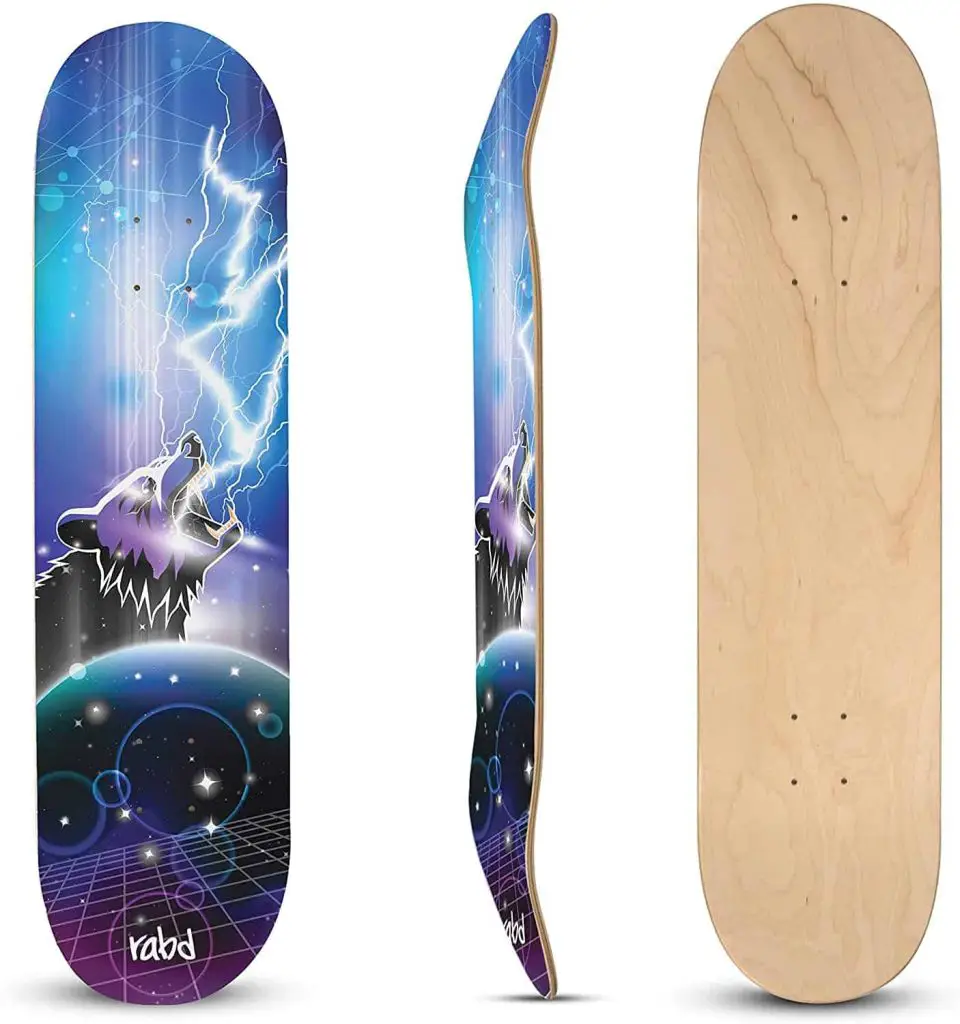 The name USA is in the product. So you can pretty much guess that this deck is also made in the United States. These are completely trustworthy boards built for skaters to support the community.
Its dimension is given by 32-inch x 8 inch and the construction, as always, is 7-ply maple wood. This feature adds up the durability and strength of any deck.
As the manufacturers suggest, this deck is a role model for a person of many ages. Starting from a kid to a teenage boy/girl in college. The color comes in different types.
They are blue, green and yellow. They also add some designs of animals and fish such as Bear, Koi and also an old school model street. Go check them out. They are amazing!
If you are a beginner, you can try this model also. Its capability to adapt to any users makes it easy to use for the level of skaters, starting from amateur to professional.
Pros:
Constructed with maple woods which gives it the strength and durability it needs
A perfect model for the person of any ages
Cons:
The package does not provide any grip tape.
Buying Guide:
Now that we know what is the best skateboard deck? The next step will be is to know what factors to look through while buying a skateboard deck. If you become familiar with this stuff, you will know which deck to choose without any second thoughts.
Below are the factors which will be discussing to know about the guide to buy a skateboard.
Length
Width
Wheel Base
Nose and Tail
Mounting Holes
Length:
The range of the length of a skateboard that the manufacturing company uses is 28 inches to 32 inches. This length is measured from the tip to the tail. Still, there is some exceptional model that goes outside of the range.
Now there are some points about choosing your perfect length. If you are a beginner street-level skater, then I'd suggest short lengths of boards.
If someone is very professional and had been skating for quite a long time, then he/she can go for the long-range decks.
Width:
Just like length, width also has a range which is 7.5 inches to 8.75 inches. Wider width performs better in agility than narrower ones. And again, it all comes down to how you want to set your styles.
If we want to shred the pool landing from in the air, go for a wider board. This process gives you a more stable center of gravity to move your body accordingly.
If you want to set your limits to a street, then choose a narrower one. Either way, I wish you will have the best skateboard for transition periods.
Wheel Base:
It is known as the distance between the two nearest mounting holes and the range stands from 13 inches to 15 inches. Wheelbase plays a vital role when you are cruising down the street.
The choice depends upon your height. If you are short, then choose a narrow wheelbase. Oppositely, a tall person will go for a wider deck.
Nose and Tail:
The nose is known as the tip and the tail situates to the bottom. If you are new to buying a skateboard, it is quite hard to know the difference.
I'd suggest taking an expert with you who will help you to understand. Normally, the nose has a bigger kick compared to the tail.
You can spot this if you look at the deck sidewise.
Mounting Holes:
These are the holes where the trucks will be attached. Most skateboards have one set of holes while some come with more than one.
Frequently Asked Questions:
1. How smoothly can you pull up tricks using these boards?
All the skateboard decks mentioned above are good for tricks. They are constructed with maple woods which gives them durability and strength which makes them the best skateboard for the transition.
2. Do these models come with a grip tape?
As discussed above, some decks come with grip tape and some do not. Go through the product review section to know more.
3. Where can I get aboard?
If you a local store available close to you, go check what models have available. But make sure to do intensive research. My opinion is to read this article and have some idea about the best decks.
4. Can I do modifications on these boards?
Yes obviously, you can add any types of stickers to it. Also, some board allows you to spray paint it according to their properties.
5. What type of deck should I get?
There are mainly two types of deck- Wood and slick
Wood decks are made of maple, on the other hand, a slick deck gives you slippery layers of plastic at the bottom. If you see the statistics, most skaters prefer a wood deck. But still, your preference should be the topmost priority.
Conclusion
Let your skater friends know that they have new competition in town. Do you want to know why? Because reading this article will give you an idea about which skateboard deck to buy. It will create take your interest to a whole new level.
I assure you, you will turn into a complete skateboard freak!
If you are a dedicated person, you will shine in your skateboarding career one day and you will remember this article helped you a lot.
Next, if someone asks you what is the best skateboard deck? You will take split seconds for their reply.