What makes sportsmen play well? Obviously, skill at first, but then? The equipment! With the wrong equipment, even the most skilled player will fail. Similarly, doesn't matter how skilled you are and how expensive your longboard is, if the truck is not up to the mark, then you might end up failing miserably.
If you don't have both the time and interest to do research to find out the best longboard trucks, this very article is what you need! We have already put together a list of top longboard trucks of the industry.
Go through it and pick the right one for you!
Quick Answer for- Long Board Truck
Editor Recommendations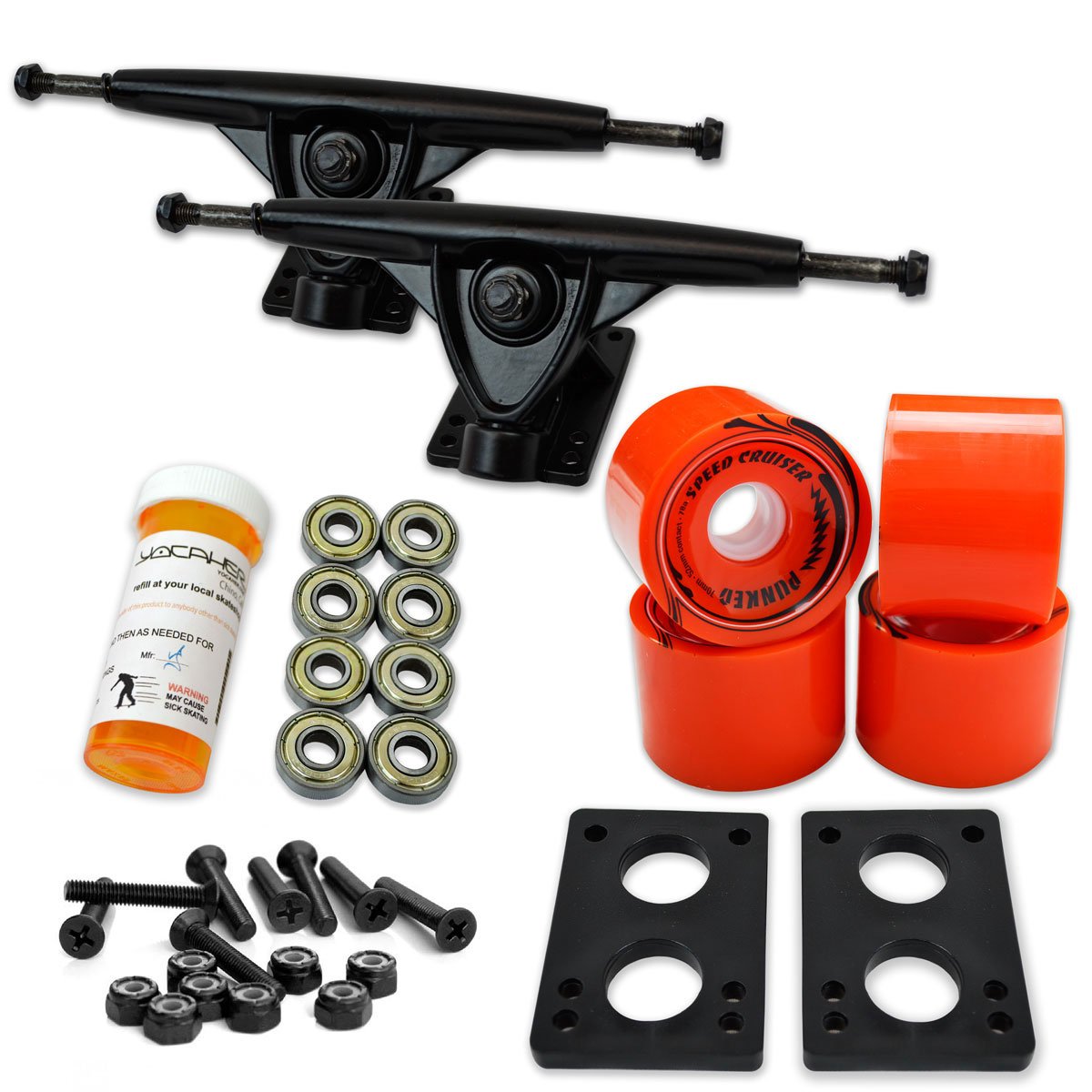 Yocaher Longboard Skateboard Trucks Combo Set
Paris V2 180mm 50° Longboard Skateboard Trucks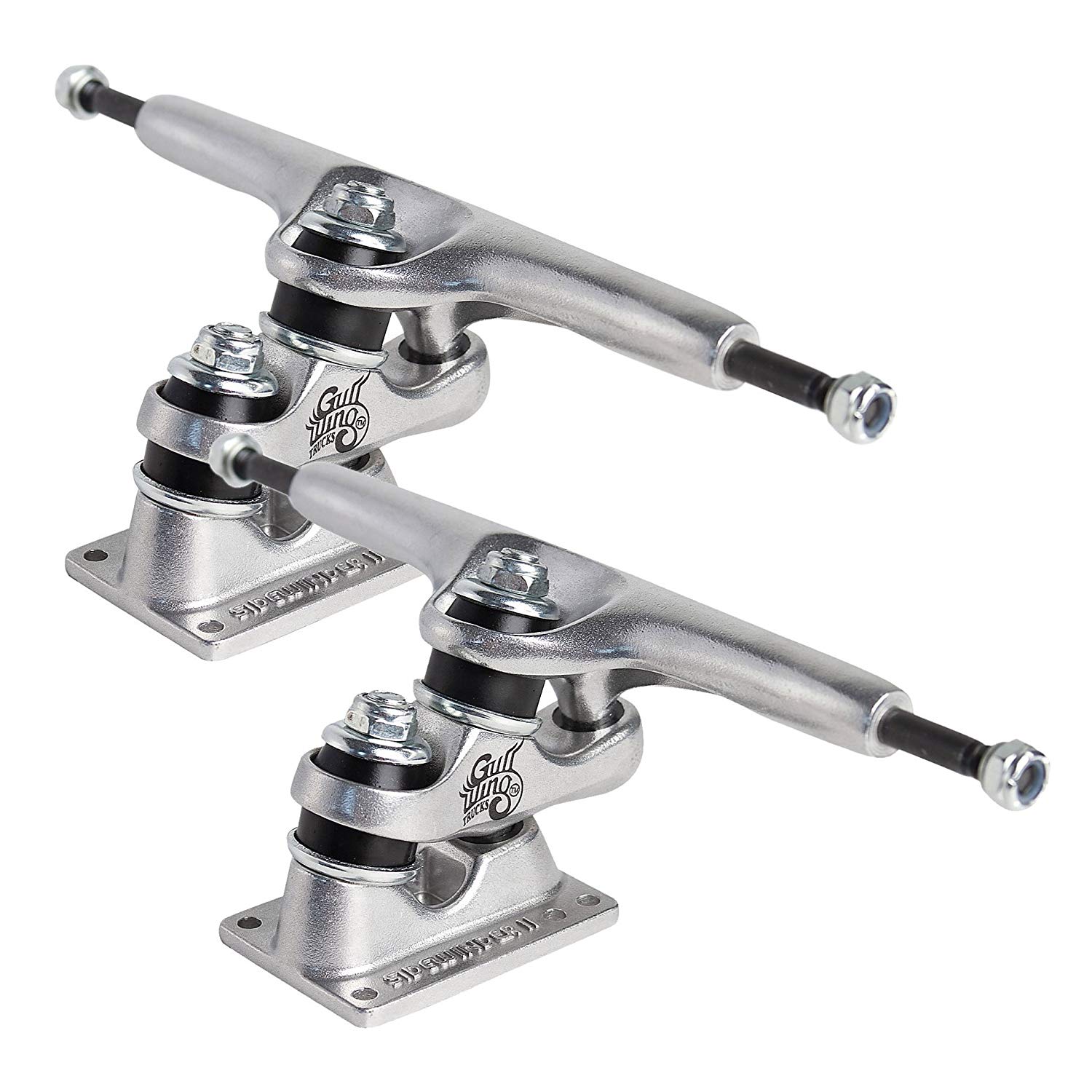 Sector 9 Gullwing Sidewinder II Longboard/Trucks
What is Longboard Truck?
A longboard truck is a thing that keeps the wheel attached to the board and allows you to turn. After the deck, this is the second most important part of the longboard. Anything wrong with it can cause you to pay.
There are different types of longboard trucks suitable for different needs. However, you will get to know everything about longboard trucks in this article.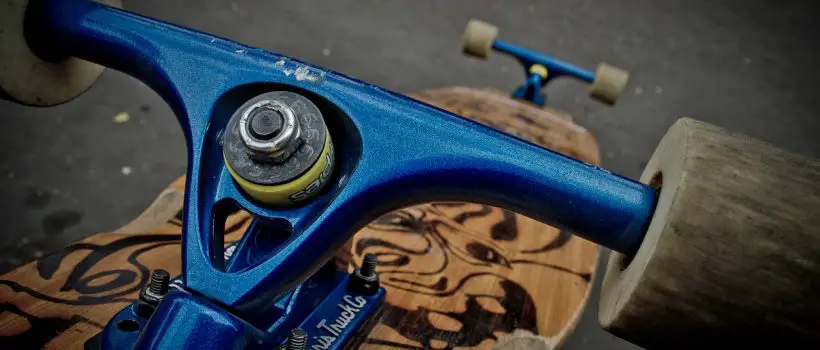 10 Best Longboard Trucks Reviewed
We have gone through more than 50 longboard trucks to pull out the best models from the bunch. We compared the durability, height, price, sturdiness and finally ended up with the following 10 trucks. Most of the users seem to be pretty happy which these longboard trucks. Have a look!
Are you a beginner skateboarder? Then you are going to love this model. The Yocaher Longboard trucks are not just a truck; it is a combo set that comes with wheels and bearings. Normally, we don't support wheels that come with the truck but for beginners, this is a great option.
This truck easily outperforms few high-end longboard trucks coming from well-known brands. The manufacturer has used aluminum alloy cis construction of this truck, it also comes with 90A PU bushing and HD7 reverse kingpin which delivers the user good stability.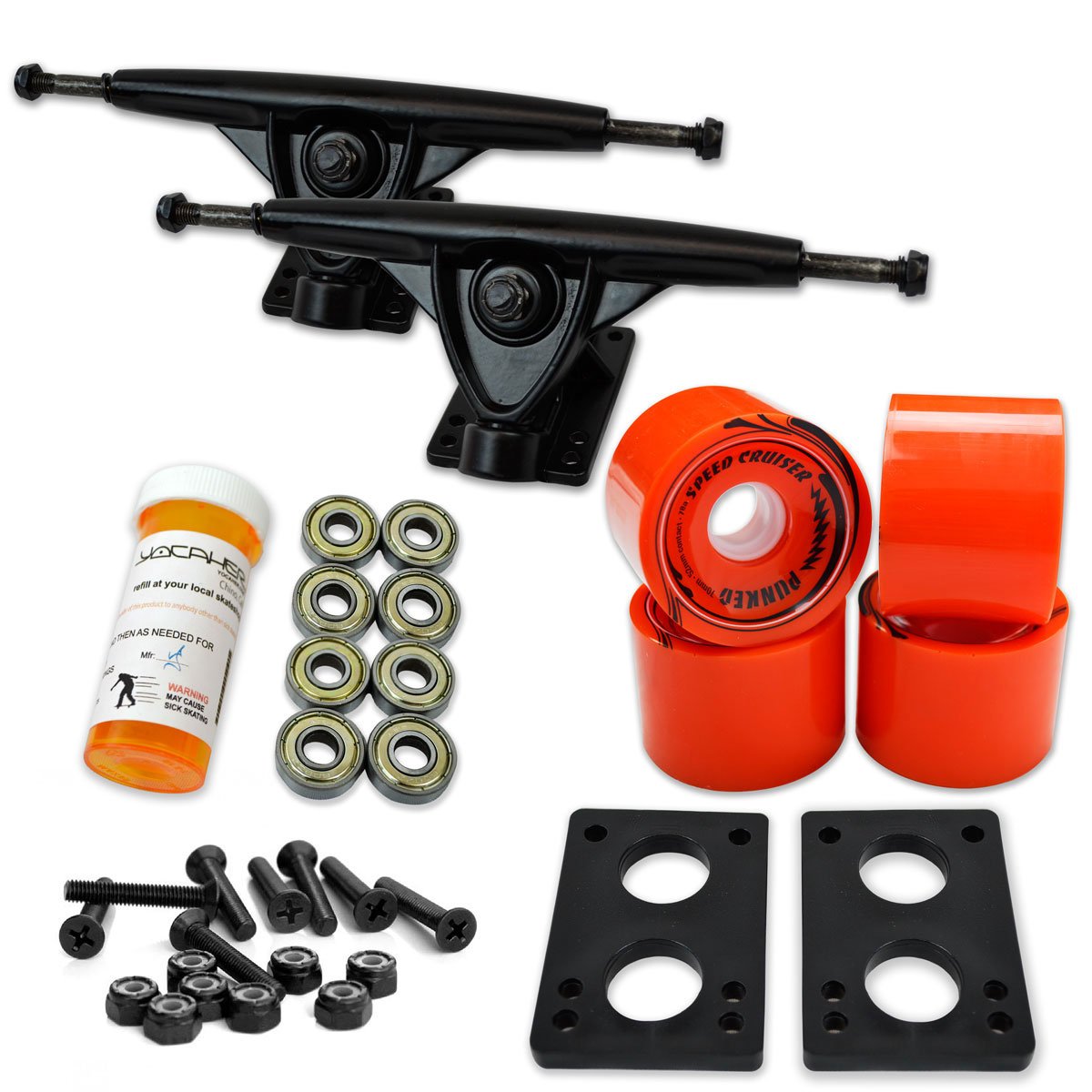 In order to prevent the contact of the wheels and deck, it comes with black color riser pads. The combo offers Abec 5 chrome pre-lubricated bearings. The truck is super easy to adjust since loosening or tightening the kingpin is very simple. Besides that, the wheels are pretty good at withstanding some obstacles such as pebbles and twigs.
Overall, the Yocaher Longboard Skateboard Truck Combo set would be a great start for newcomers. Plus, the price of this combo set is reasonable as well. However, we have found the wheels to be a little slower but that should not be an issue for beginners.
Pros
Comes with needed accessories.
Highly adjustable trucks.
Durable wheels.
Trucks offer stability.
High-quality plastic riser pads.
Cons
The Paris Version 2 1800 longboard trucks are among the super solid and strong bunch. It is capable of withstanding some heavy wear and tear which makes it suitable for rough riders. The previous version 1 model got a lot of complains that it bends out easily. Now this Paris V2 is the upgraded version of that which is completely bent resistant.
This very model has been considered as one of the best longboard trucks for cruising. It comes with positive hanger rake and nonrestrictive bushing seats which makes this a gold standard truck that no longboard cruiser will want to miss out.
With the 50-degree base plate, this truck is highly responsive which will give you smooth rides around the city. The manufacturer has used top-notch material in the construction.
It is constructed with 100-percent virgin aluminum that is a very lightweight and durable material, and hence the trucks are lightweight and highly durable as well.
The trucks come with 6-hole base plate which is a new mounting system and is easy to mount. If you ride roughly, you shouldn't see anything major other than some scratches for a long period of time.
Pros
Highly durable trucks.
Highly lightweight.
6-hole baseplate.
Comes with hanger rake and bushing.
The manufacturer offers a lifetime warranty.
Cons
The trucks are little squeaky.
Yocaher Longboard Skateboard Trucks Combo Set Vs Paris V2 180mm 50° Longboard Skateboard Trucks
If you are looking for a combo set, then the Yocaher longboard trucks combo will be a good option. The trucks this combo set offers are stable as well and the price is also low compared to other combo models.  On the other hand, the Paris V2 trucks for the users who ride little rough. The manufacturer has used top-notch materials in the construction which makes it super durable.
Want to step up your game with a pair of top-notch longboard trucks? Then you might want to have a look at the Sector 9 Gullwing sidewinder 2 longboard trucks.
The looks of these trucks say it all about the quality, they look super classy. The satisfying part is, they come in different colors and sizes allowing you to choose according to you.
These trucks got excellent build quality, made to last for a long period of time. Riders who look for effortless exaggerated turns; this very model is a great option for that.
It features double kingpin setup which is compatible with a drop-through deck. However, you might need to spend little time in adjusting the kingpin set up in order to make sure both kingpins is working nicely.
But once you have got the right adjustment, you won't want to shift to another truck for sure. Although few people think the price is not reasonable but honestly, it is!
The quality these two trucks offer, according to that the price is fair. For cruising and commuting around the city, these trucks will be a great choice since it can survive heavy wear and tears.
Pros
Comes in different colors and sizes.
Comes at a reasonable price.
Double kingpin setup.
Looks classy.
Long-lasting trucks
Easy to set up.​
Cons
Not suitable for speedy rides.
The Caliber Trucks Cal II 50 is another top-notch longboard truck that comes at a reasonable price. It comes with outstanding qualities. First off, it is highly durable, if maintained well it can outlast your longboard deck. We have got a lot of user feedback and according to them; these trucks will serve at least 2 years before they hit the trash bin.
These trucks can hold a lot of abuse, riding over twigs and pebbles is no issue at all. Are you a choosy person? Then do not worries about the color, these trucks come in over dozens of different colors. Let's talk about configuration, adjusting these trucks are super easy and they can be configured in hundreds of ways.
With advanced technologies, brand Caliber is continuously upgrading its products. We have tested the previous version of this truck model and found the new version this Caliber II to be even stronger.
Moving on, it comes with reinvented bushing seats that can reduce all kind of excess movements in order to give you great stability. Turning with these trucks is also very satisfying. Lastly, we would say, you would not suffer investing on the Caliber Trucks Cal II 50 longboard trucks.
Pros
Constructed with top-notch material.
Looks excellent.
Easy to configure.
Highly durable.
Can survive all weather condition.
Latest bushing seats.
Cons
The bushings make a loud noise
Sector 9 Gullwing Sidewinder II Longboard/Skateboard Trucks Vs Caliber Trucks Cal II 50° RKP Longboard Trucks
Both of these trucks models are pretty similar to each other. They both hold great quality, offers various color and size options. The Sector 9 longboard trucks are great for rough ridings, that being said, they are not for speed. And the Caliber trucks are great for both speed and rough ridings. Plus, the caliber trucks are suitable for all-weather condition. However, if we compare the price, the caliber model comes at a lower price.
If you have been to the skateboard market a while, you must have heard the praise of the brand BEAR. And this Grizzly 852 gen 5 longboard trucks belongs to them.
The reputation of the brand reflects on these trucks. Riders who need heavy strength this very model is for them. It's hard to judge its strength unless you take a ride.
These trucks offer some good features worth having a look. Let us start with the 8-hole design.  The 8-hole is designed is something only new generation longboard owners will understand, it is an advanced technology.
That being said, these trucks cannot be mounted to the traditional longboards. The 8-hole design accommodates both new and old school drilling patterns.
They come in 5 different colors and all of them look great. The price varies on colors. It is a highly versatile truck model which is pretty lightweight too. It comes with revised and less restrictive bushing seats.
The offset hanger enables these trucks to flip over and when it's flipped over you will get more stability.
Pros
Highly versatile.
Durable and lightweight.
8-hole baseplate design.
Comes in different colors.
Constructed with aluminum.
Cons
The bushing seat has issues.
The Speed 5-inch Turbo Trucks Set is the cheapest truck model of this review list, but still offers the expected service. These trucks come with 5-inch hanger and perfect for pairing with the 7.5, 7.75, and 7.63 decks. You will have outstanding riding experience. And they compatible with 51mm to 54mm wheels.
Since it comes at a cheap price, do not overlook its quality. It offers more value than the price. The manufacturer didn't use cheap materials in the construction; it is constructed with good material. It got metal alloy finish and a good look to amaze anyone.
These trucks offer some abilities that few expensive models don't. You will get good maneuverability with these trucks; it requires just little extra effort in long rides. Riding over twigs and pebbles is no issue with these trucks. They are good at durability as well, but you cannot expect high durability as expensive models offer.
Lastly, if you are in a tight budget and looking for good trucks within that budget, trust me, you won't go wrong with the Speed 5″ Turbo Trucks. They are lightweight, versatile, and fairly durable, what else you can expect from such a low price point?
Pros
Extremely low price.
Got sturdy finish.
Versatile and lightweight model.
Easy to install.
Can ride over twigs and pebbles.
Cons
Bear Grizzly 852 gen 5 longboard trucks VS Speed 5″ Turbo Trucks Set
Undoubtedly, the Bear Grizzly 852 gen 5 truck is way too durable than the Speed 5 turbo trucks. It is really long-lasting and can withstand heavy wear and tear as well. It is a highly versatile model and comes in different colors. On the contrary, the Speed 5 turbo model is low in quality compared to the Bear model. Having that said the price of the speed 5 in way too lower than the Bear Grizzly 852.
Another combo set and last three products are also combo sets. These sets are a great option for people who don't want to spend much time deciding different parts; hence they are not for serious skateboarders. Well, moving on. The SCSK8 longboard is a kit that includes wheels, bearings and needed tiny items for mounting.
The combo set includes 70 x 50mm wheels with 80A hardness, these wheels are good. It also comes with the 7-inch hanger. So now, how is the truck? The trucks are suggested for normal use. If you are a rough rider who will be riding over pebbles and twigs, then you should ignore this combo set.
The trucks will suit most longboard decks, drop through decks are also included, and the gaskets come with the purchase is good. Installing the trucks are a breeze, then again an installation manual comes with the kits which will make it even easier.
There are a couple of downsides of this SCSK8 combo kit. First of all, we got a few complaints about bending trucks, combo missing parts, and broken parts. Then we have realized that it is rarely happening but if claimed the manufacturer will take the needed step. And the second one is, the bearings are not that good, only suitable for beginner skateboarders.
Pros
Comes with all the needed items.
Best for beginners.
Good trucks and wheels.
Long-lasting (if maintained well)
Very simple to install.
Cons
Low-quality wheels.
Not for rough riding.​
This Longboard Skateboard Trucks Combo set belongs to the old well-known brand Core. The combo set doesn't contain anything different, it comes with usual items.
With the purchase, you are getting two trucks, wheels, risers, bearings, and screws. The trucks come in only one color but the wheels come in two different colors, blue and black.
Let's start with the wheels. The wheels of this combo are pretty good. These bigfoot mountain wheels are 76mm x 53mm and the hardness is 80A. You will be getting great grip and stability with this 80A high rebound hardness.
It brings riser which is a very important thing. The risers come into play when the wheels are biting the deck.
Installing the risers will make a good distance between the wheels and the deck. So there will be no wheel biting. The bearings also move pretty smoothly and fast.
The truck is super lightweight and heavily constructed with top-notch aluminum which adds to the durability. It also got 8 steel kingpins and axels as well. Not only that but in this combo, you are going to get the USA made brushings also.
Pros
Offers durability.
Comes with risers.
Highly lightweight trucks.
Good bushings.
Great wheels.
Cons
The bushing makes a loud noise.
SCSK8 longboard Trucks Combo Set Vs Longboard Skateboard Trucks Combo set
Here both are the combo set. If you are looking for speed and will be riding roughly over hard obstacles, then the Longboard skateboard trucks combo set should be a good option for you.
Since the wheels and bearings of this combo set offer good service. And if you will just be cruising around the city lightly, then the SCSK8 trucks combo set will be the best!
The Cal 7 1850mm trucks combo is the cheapest combo of this list and yet holds some amazing features to offer. Just buy a deck along with this combo; you will be all set to cruise.
One surprising part of this combo is, the wheels and truck come in more than a dozen variations. You will get a wide range of colors to choose from.
The trucks come with 50-degree baseplate which offers faster and sharper turns. It comes with a 9.75-inch wide grade 8 axel which is constructed with 100% virgin grade aluminum. The combo includes two riser pads as well.
The wheels and bearings of this combo are premium quality and look pretty classy. Wheels are little rebounded which will offer you good stability when going over twigs and pebbles. The trucks are sturdy, can withstand some heavy wear and tears.
Pros
Durable trucks.
Smooth moving bearings.
Good quality wheels.
High maneuverability.
Comes at cheap price.
Cons
The kingpin tends to snap. 
And finally here comes the last combo set of this review and that is the VJ 5.0 Skateboard truck combo. The combo includes 52mm wheels, Abec 7 top-notch bearings, needed screws, 2mm riser pads, and a skateboard spacer.
This VJ 5.0 combo is one of the top-rated skateboard truck combos, so you can guess the quality won't be worst at least.
The trucks come with 7.6-inch axle construction and 5-inch hanger. Also comes with 90A hardness bushing which offers great stability to the rider. With the 6-hole base plate, the truck can accommodate all kind of drilling patters.
Bearings move pretty smoothly and the rebounded wheels allow you to ride over the pebbles and twigs pretty easily. The truck will fit 7.5 to 8-inch decks and comes with all the tiny accessories will be needed in the mounting process.
Pros
Durable trucks.
Rebounded wheels.
Top-notch bearings.
Easy to mount.
Offers good stability.
Cons
Only suitable for beginner riders.
Cal 7 180mm Trucks with Wheels and Bearings Vs VJ 5.0 Skateboard truck combo.
Both combos are almost similar to each other; the only major difference between these two models is the durability. If you are a rough rider then the VJ combo won't be suitable for you, since the truck won't be able to withstand heavy wear and tear.
When it is coming down to speed and rough riding, compared to the VJ the Cal 1 180mm truck combo set is better.
Things to Consider Before Buying the Best Longboard Trucks.
In order to get your hand on the right longboard trucks, there is a bunch of things that you have to keep in mind such as truck size, kingpin, bushing, base plate, etc.
However, we have demonstrated all the factors that you should consider before making a purchase decision. Here you go!
Size.
A most important part of buying a good truck. Which size should you pick? Here it is, the width of your trucks and the axle should be similar to the width of your deck board.
Most of the longboards are 9 to 10 inches wide, so you will have to pick a truck and axle 9 to 10 inches wide.
We must tell you, different brands measures size differently, some measures in inches and some millimeters. You might get a little confusing but don't worry. If you get size labeled in millimeter, just convert it to the inches with any online converter.
Kingpin.
The kingpin can make a huge difference in your riding. The kingpin is just a pin which holds all different parts together and it is replaceable. However, there are two types of kingpin standard and reverse.
Standard kingpin: These kingpin trucks come with a kingpin that faces towards the boards center and they come into play when the rider wants to do some longboard tricks.
Standard kingpins are better for performing tricks is because the kingpin bolt doesn't interrupt with grinds on the rails.
Reverse Kingpin: These kingpins are widely used in longboards since they are highly responsive even at a slower speed. Plus, offers great control as well. Reverse kingpins face towards the front of the board and allow you to cruise more comfortably.
Baseplate.
The baseplate is the thing that connects the truck with the deck board. The main motive of this thing is to distribute even pressure on the board so that the rider can ride more stably and comfortably. Mounting it to the deck requires 6 to 8 screws and holes.
Bushing.
Bushings are the things that affect the board's reaction to the user. In other words, it is a thing that offers cushioning between all the moving parts of the truck.
There are two types of bushing and comes in different hardnesses. Harder bushing means stiffer trucks hence the more leaning will be required to make a perfect turn. However, if you want a quick response for your longboard then choose soft bushings.
Hanger.
It is the T-shaped aluminum alloy bean on the longboard trucks that connects the wheels with the main body of the truck. How comfortably you would be able to ride highly depends on the hanger.
And hanger needs to durable as well; otherwise, you will end up breaking it in the middle of the road.
Plus, when it comes down to tricks, how perfectly you will be able to perform trick depends on the hanger as well. So do not compromise the quality even slightly when choosing it.
Risers.
This is something that you won't always need. Risers come into play when you have a wheel bite.
Wheel bite means when the wheels come in contact with the base of the deck that is called wheel bite. It can cause serious damage to your deck and risers are for solving the issues.
Riser pads are designed to be attached between the truck and the deck so it raises the deck from the wheels. They are made of rubbers and works as a shock absorber as well.
F​​​​​aq
What size longboard truck do I need?
The size of your truck and axles should be similar to the size of the deck. That being said, the majority of the deck's size is 9 to 10-inch wide, so same size trucks will be good for you.
Are Paris Trucks good?
Yes, they are! They come with softer bushing which increases the response of the longboard. Besides that, they produce high-quality trucks as well.
Can I put longboard truck on a cruiser?
If you want, you can do that. But it is advisable not to do that. Because heavy riding on the cruiser can cause the longboard truck to break.
Conclusion
So those are the best longboard trucks trending on the market right now. We have tried our best to provide you with all the information, hope that helped!