If you have been wanting to buy the Yocaher longboard but have been just as equally reluctant due to the risk of regretting it later, then you have just stumbled upon the right article, my friend! You do not have to buy it to understand its worth; that's what I am here for!
In our article today, I will put forward the best, most thorough and the most honest review of the Yocaher longboard for you. You will have access to all of its features, pro and cons, and a lot more information on it so that you can make the sanest judgments and decision based on our review.
Let's find out if the Yocaher longboard has what it takes to be your next longboard!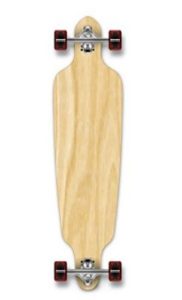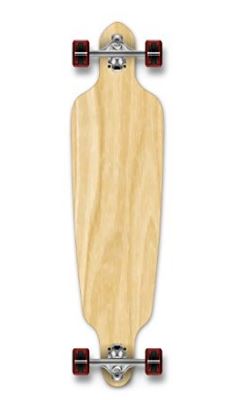 The Yocaher longboard is designed to be a longboard alright, but if they also classify it as a professional grade skateboard with great speed capabilities. As contradictory as it sounds, it is, therefore, both a longboard and a skateboard.

Although I must say, it looks nothing like a mainstream skateboard; it does not have the rounded nose and tail ends of the deck. So yeah, if Yocaher has pulled off merging a longboard and a skateboard into the same body, then hats off to them because it's not as easy as it sounds.

The one will look at today is the "getaway" longboard from the series. However, you have 15 more to choose from; each with their individual personalities and design! Who doesn't love choices? Let's move on to the main features of the Yocaher longboard now.
Technical Specifications.
The Yocaher longboard is just heavy enough to function as a wholesome longboard, yet lightweight enough to almost double as a skateboard. It uses drop through trucks and has a deck measuring 40 inches in length.

One thing to keep in mind is that beginners may have trouble using the Yocaher longboard at first since its drop through trucks can take it to some very high speeds. But controlled and safe practice should help the unconfident hopeless catch up without a problem.
Design and Performance.
Deck.
The deck used on a longboard is one of the most important components used on it. It dictates a lot regarding balance, stability and user comfort. The Yocaher longboard uses a 40-inch long deck made out of high-quality Canadian Maple; 9 layers of it to be exact.

40 inch is long enough to serve you well as a downhill board since longer boards give you more stability. You have 10-inch width; enough room for your foot.
Now, one thing about these decks is that they are highly concave and are low flex. This curvature and low flex designs give the user that much needed control during carving and sliding at higher speeds.
Speaking of higher speeds, your longboard is going catch speed pretty quickly on a downhill and depressed roadways; this is where the drop through trucks comes to use.
Drop through trucks are basically the trucks attached to the deck through a cutout of a slit. This design, very unlike in skateboards, eliminate the distance between the deck and the ground, and the lesser the distance between the two, the more stability you enjoy; especially at high speeds.
Oh and more thing, the deck is blanketed by a Black Widow premium grade  80A black grip paper for extra hold.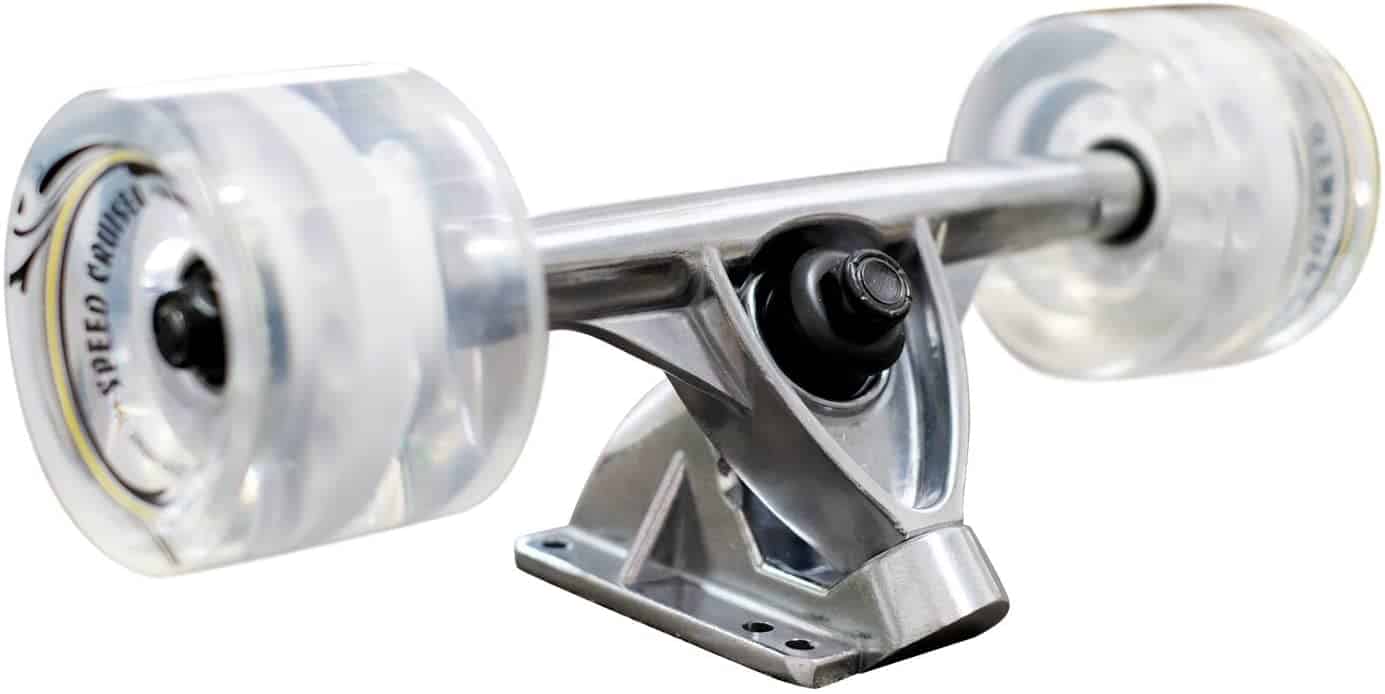 Wheels.
The wheels on any longboard or skateboard are the very essence of it. Mess this up and all you have is a plank of wood.
The wheels used on Yocaher longboard are 70 mm by 52 mm which is the ideal benchmark for wheels on a downhill longboard; it is also perfectly proportional to complement its 40-inch deck.
The wheels have a hardness of 78A which also covers for normal and downhill cruising.
Bearing.
Ceramic bearing is the end of all arguments. It is far more durable and heavy-duty. I will never understand why so many great brands resist it. And as suspected the Yocaher longboard also steered clear from it.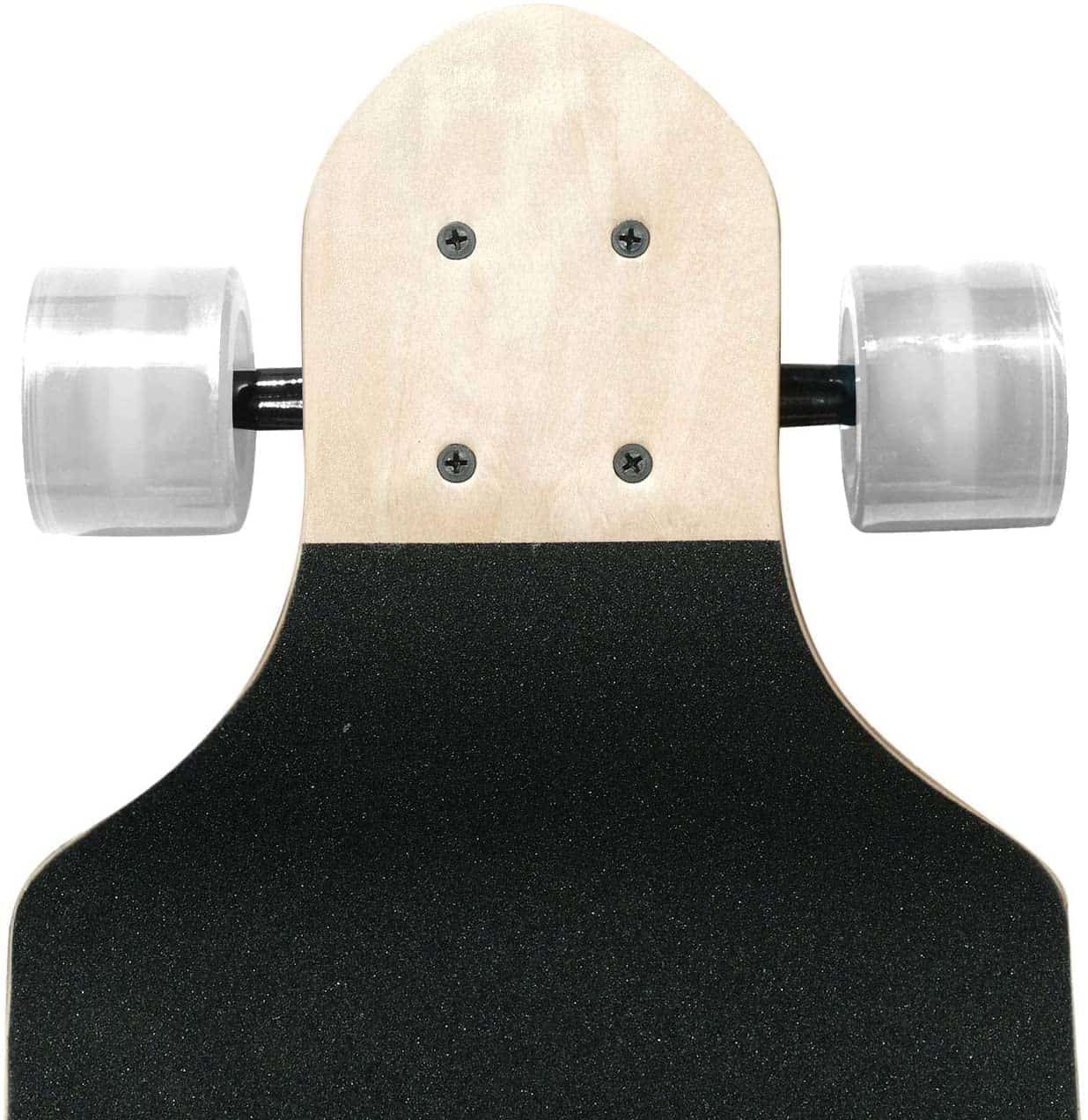 It uses an Abce 7 chrome 9.7-inch bearings with 180 mm hangers made out of aluminum alloy. So, is it bad? Not at all. But definitely not the best.
Graphics.
The Yocaher longboard, Getaway, looks exactly as its name says it would. It shows clear skies, crystals blue waters and white sands with 2 beach loungers surrounded by tropical green.
It gives off a very vacation-ish and laid back Hawaiian vibe. However, the top of the deck is rather contradictory to the vacation feels. It is matte black and looks very bold and sleek. Very cool nonetheless.

A quick look back at the Yocaher longboard.
Pros.
A great downhill and cruising loungeboard.
Uses drop through trucks.
Amazing balance and stability.
Great grip tape.
Very clever graphics; one is all happy and chilled while the other is bold and serious.
Cons.
Does not use ceramic bearings.
Shows very less promise of serving as a skateboard; won't be able to pull of any tricks.
Customers showed concerns with the wheels on it; low quality.
FAQ.
What is the weight limit on the Yocaher longboard?
Answer: The weight limit should be around 250 pounds.
How well does it turn?
Answer: It turns pretty smooth, but if you feel like you could use more, then just loosen up the bearing a little bit.
Conclusion.
So, at the end of our Yocaher longboard review we learn that this longboard is:
Affordable.
A great cruiser.
Great downhill action.
Great looking and.
Does the job pretty darn well.
It is a good piece undoubtedly, but there are good problems with it too. First, It shows no signs that it can really, really, after all, be used as a skateboard as it claims.
But for me, the deal was instantly off when a good number of customers complained of the same problems: the wheels. If a longboard can't get its wheels right, I say start looking elsewhere. Now, the decision is yours.
This concludes our review today; I hope you learned a great deal from it enjoyed reading along too. For more detail, click on the link of the product I mentioned for you on top of the page. Until next time!