If the Volador freeride longboard has been hovering over your mind for a while then our article today will settle it once and for all for you. Diving right into purchasing it without knowing its value can cost you. Literally. But, don't you worry; this is exactly what we are here to fix!
We will put down for you the most comprehensive, thorough and honest review of the Volador freeride. So that you do not have to keep wondering about it anymore.
By the time you finish reading our review, you will already have made up your mind of its credibility. So, will does the Volador freeride longboard really have what it takes to be your thing ride? We will find out soon. Let's begin!
Volador Freeride Longboard Review
The longboard should be particularly great for downhill and depressing streets and roads thanks to its favorable length. But of course, you can use it for day-to-day commute and treading as well; a great replacement for cars, don't you think so?
This longboard from Volador is in the color "leaf green" from the Freeride series. But you are will be able to choose from 3 more colors and variations from this series.
Technical Specifications.
And the reason we deemed the Volador freeride longboard, leaf green, appropriate for hilly roadways is all because of the length of the deck of this thing. The dimensions measure 4 x 9 x 42 inches; 42 inches in length is ideal to establish stability (something you really need on downhill roads).
On that note, you also get enough foot room on its deck which measures 9 inches in width.
As for the weight, it weighs just about 8.5 pounds; not the lightest, we know, but you need this weight bulkiness on longboards in order for it to stay put when are on it.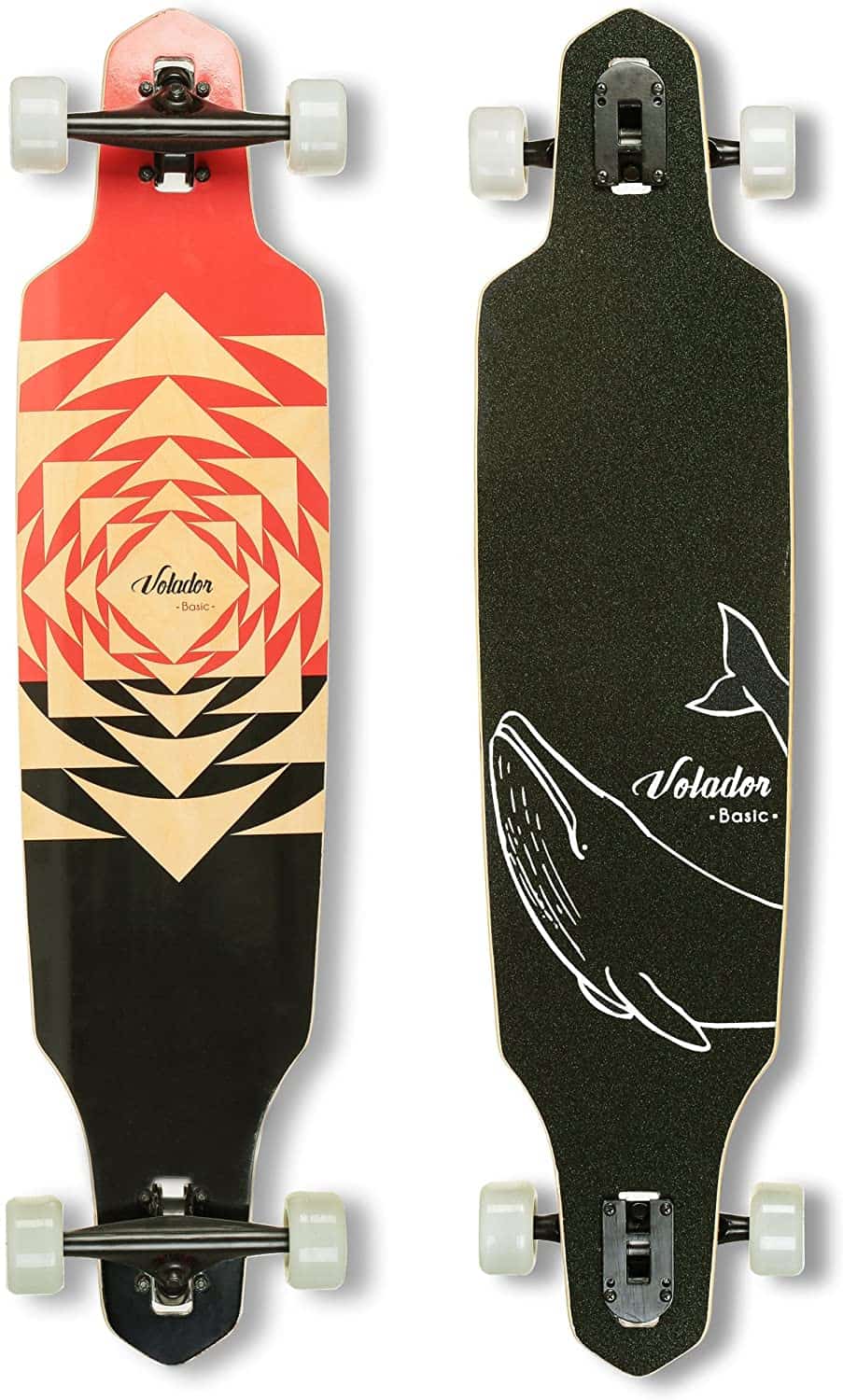 Either way, the length, width, and breadth of a longboard are crucial, and Volador has pretty much nailed it with the leaf green. The weight is also just light enough for it to be carried around on the back of your backpack or your hands in times you are inactive on it.
Concept and Performance From Technical Perspective.
Deck.
The deck on a longboard dictates a lot in terms of performance and comfort. The Volador freeride longboard uses a slightly curved and concaved deck to glide through the wind without much resistance.
It also acts to provide much-needed comfort to the user's feet while they are on it. The "almost pointy" nose and tail of the deck also helps you to cut through the wind and catch speed.
The drop-through trucks on the Volador freeride longboard also gives this longboard its magic. Drop-through trucks eliminate the distance between the deck and the ground much more than trucks that are simply drilled onto the bottom only.
The lesser the distance, the more control you have on your longboard. Through this, you will enjoy the added benefit of furthermore stability, especially when you are cruising down a steep road at high speeds.
Trucks.
A common rule of thumb on picking out great downhill longboards is to not buy trucks less than 180 mm. It is also recommended that you get boards with truckers that have a 44 to 48-degree base plate.
And the Volador freeride longboard complies with the size of the truck very well. But it does fall back in terms of the base plate. It has a base plate of 40 degrees, which isn't bad per se but isn't too great either for a downhill longboard. It's all about balance and stabilization at the end of the day, folks.
Wheels.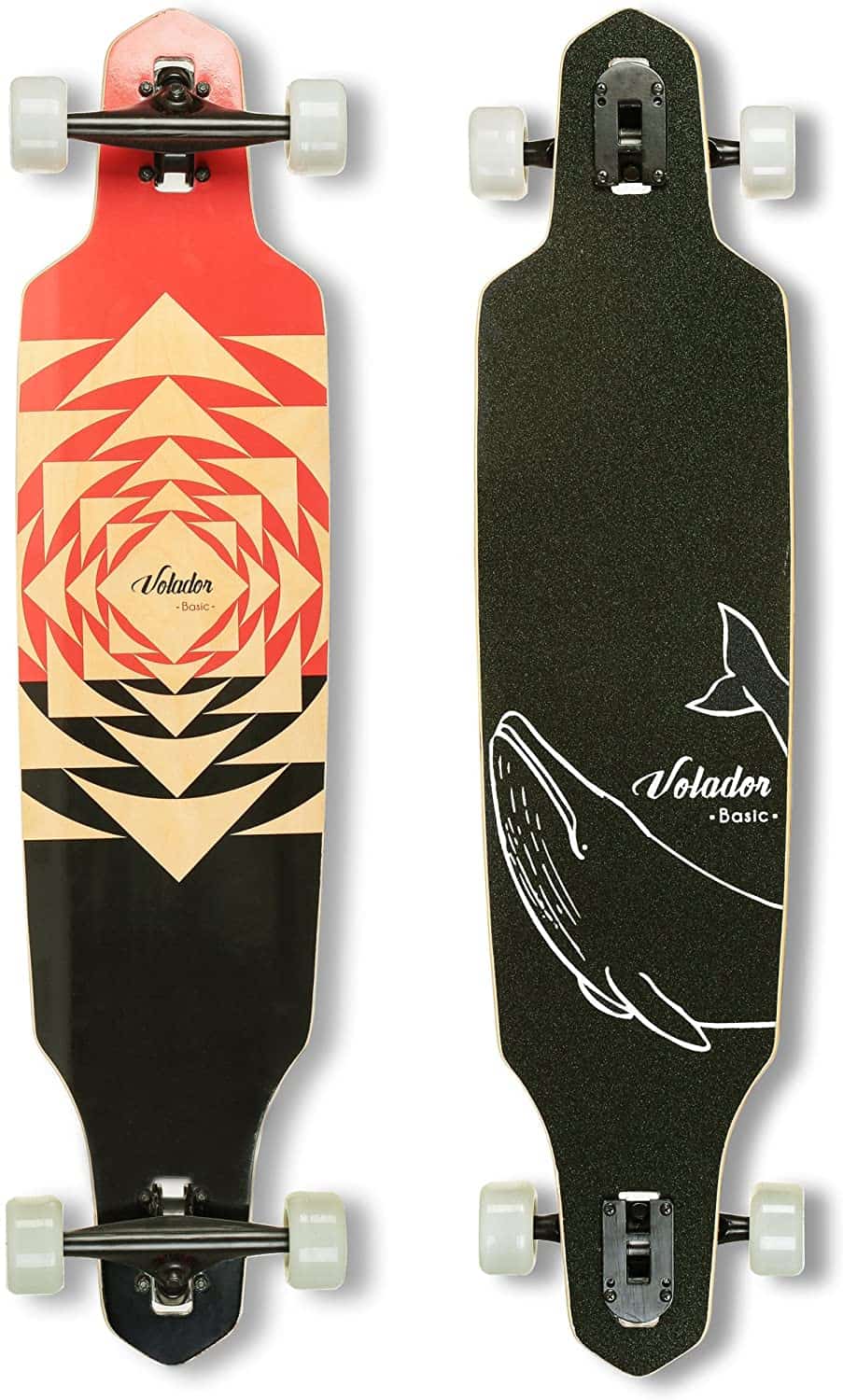 Wheels are judged by diameter (size) and durometer (hardness). Considering that the Volador freeride longboard is designed to be a downhill longboard. It should have wheels at least 70 mm or more and a hardness of 78A *.
And the Volador freeride longboard complies! It has 70mm x 51 mm wheels and has a hardness of 78A.
*If you may be wondering what the hardness of 78a depicts, it simply denotes the level of hardness. The lower the number, the softer the wheels. Softer wheels don't always mean a bad thing; it does have more gripping power than the harder ones.
Bearing.
The Volador freeride longboard uses an ABEC 9 bearing. A ceramic bearing would have been more preferable since they are most durable at the end of the day.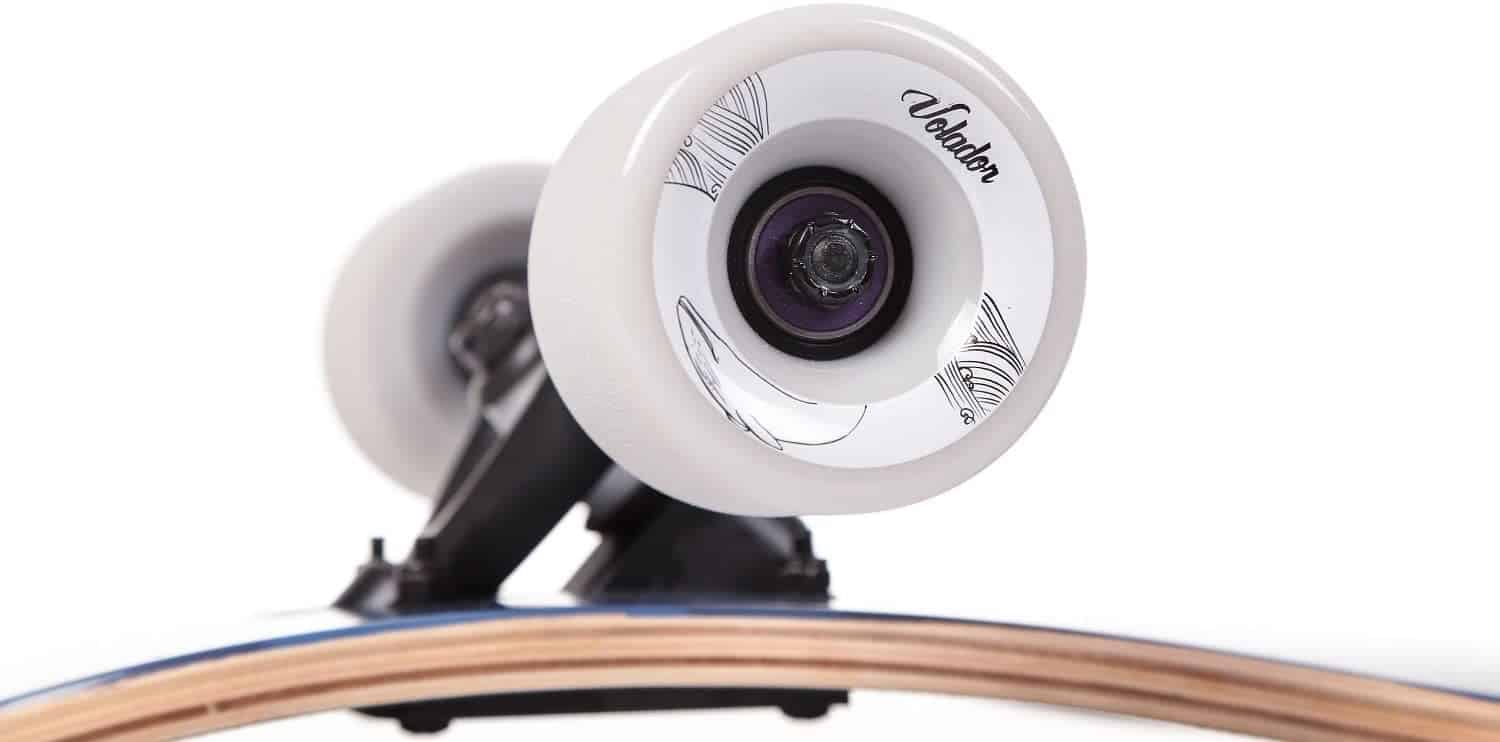 Materials.
The deck of the Volador freerides longboard uses Maple in its making; 8 layers of it to be exact. It is topped off with a grip to grip onto the user's foot. The trucks are made out of aluminum die casting that repels rust and corrosion.
The quality components that have been used to construct it surely seem promising but unfortunately, numerous consumers report beg to differ.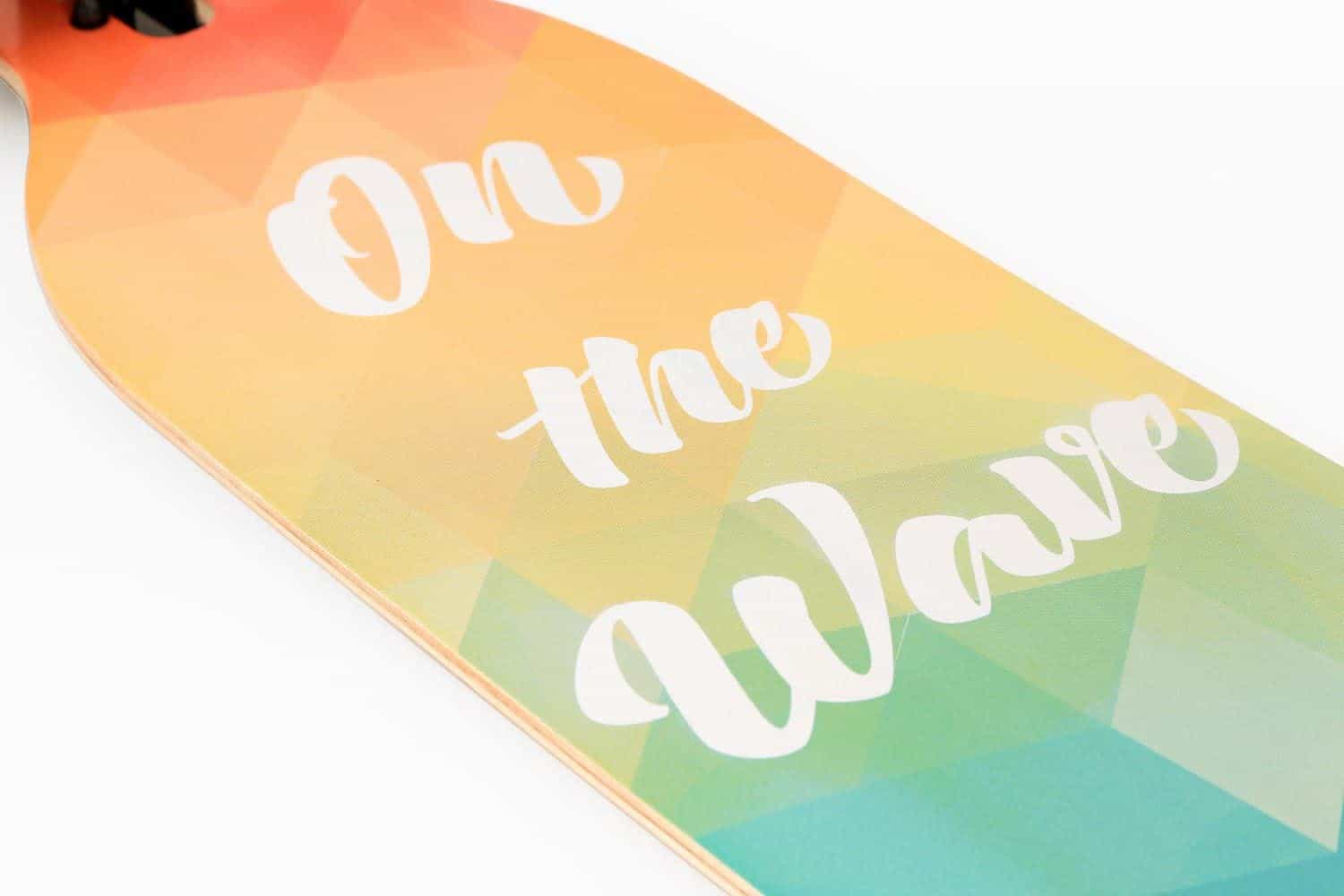 Appearance.
The Volador freeride longboard, leaf green, has a beautiful black skin on top of the deck, and the bottom has a mix of several blues; you have printed brand logos on both sides. These have been meticulously heating transferred.
The contrast of the white wheels and the black trucks really does a great job catching eyes. All in all, it looks fun, laid back and youthful! Very appealing, indeed.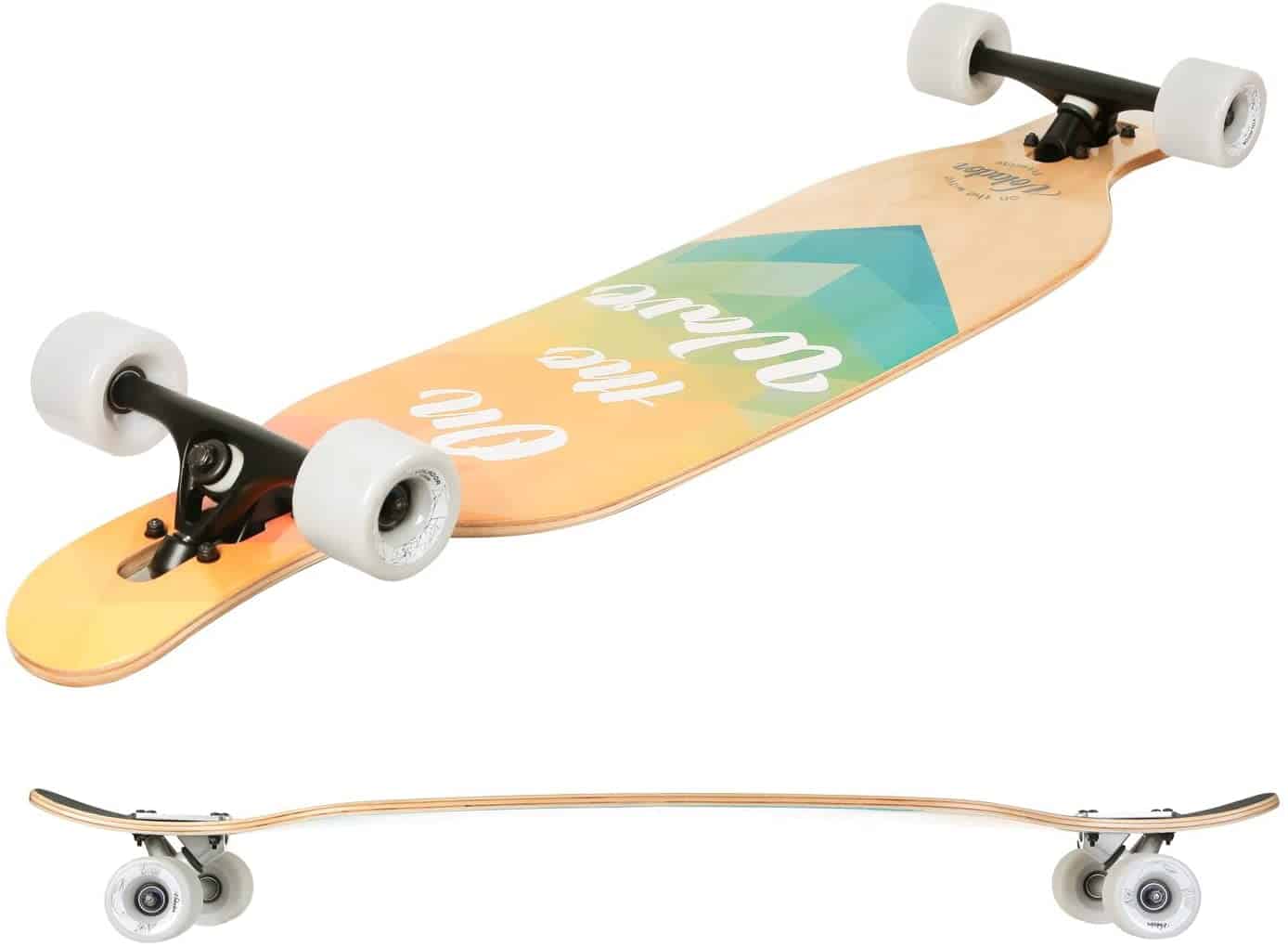 A quick overview of the Volador freerides longboard.
Pros
The Volador freeride longboard is a great choice for a downhill longboard as well as a cruiser
Maple wood deck.
Provides immense stability and balance to the user.
Has to drop through trucks.
Great looking.
Cons
The base plate is 40 degrees; the standard benchmark downhill boards are 45 degrees.
Many consumers have complained of its quality issue; breaks easily.
Frequently Asked Questions And Answers
What is the weight limit for the Volador freeride longboard?
The weight limit on this longboard is about 250 pounds.
Would it survive tricks?
Glad you asked this. And no, it wouldn't. It has been built as a cruiser and almost serves as a downhill longboard. It is nearly nothing like a skateboard to do tricks on.
Final Verdict from My Part
We are a little confused about the Volador freeride longboard ourselves at this point. Don't get us wrong, it is a brilliant board for the price it is being sold at but it just seems to serve, you know? And the one and the only issue we had from it are its sense of quality and durability.
Despite claiming to use such great quality complements and parts, it has snapped and cracked on many users on many occasions. To be honest, this just isn't making the cut for us; we wouldn't recommend it.
We put forward our report of the Volador freeride longboard, but the final and most say is always yours. Good luck!
Volador Longboard Review from its Company's Perspective
So far, the deprescription of the product, they depict in their Amazon store; This is an ultimate work of longboard engineering, and it is the answer for a smooth and joyful ride for you.
When 8-ply hard maple get cold-pressed into a camber concave deck, it gives amazing physical performances like super flexible, shock-absorbent in any terrain, and unsurpassed in strength so far.
They assured that the unique symmetrical shape saves you all the riding time from wheel bite from any angle, so rest your heart at any extreme turn, and enjoy the extraordinary maneuverability of this exclusive board. I guess you feel excited!
On the other hand, all hardwires are forged by top materials, like genuine aluminum alloy trucks, carbon steel bolts, chrome steel bearings, high rebound PU wheels.
Only with these top-notch parts could we fully explore the board's potential.
They said that Volador only builds what you want to ride as a rider, the only target for us is to make the board ride as good as it looks such an aesthetic creation.
Environment Caring
A longboard is a perfect spot to enjoy the nature of her lover. You could feel the breeze by cruising the city or appreciate the mountain view on a downhill ride. 

As a creator and presenter of the boards, they assure once again are making them environmentally friendly, minimizing their negative effects as far as they can. 
So, the board is made of sustainable woods, using methanol-free epoxy glue, collect offcuts for recycle. You know a healthy eco-friendly board definitely brings more joy indeed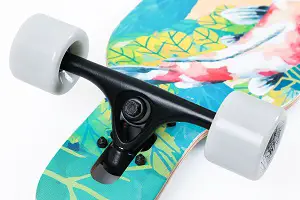 Presentation of an Aesthetic Creation
Quality is their first concern, and artwork is the second one-they said.
With ideas collected from designers of different cultures, they take care of people with different tastes and varieties.
You may find longboard for girls, boys, kids, undergraduates, or 1970's old school riders. Technically, they made the bottom graphic durable, and will never fade with time.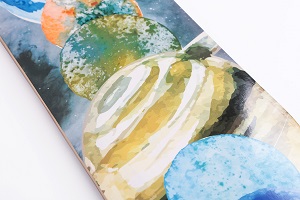 A Stable Cruiser Ever
Riders get a 34-Inch wheel-base and spacious 9-Inch width deck. With 45-degree trucks and a shock absorbent deck, the board serves as a perfect cruiser for hours' comfortable ride.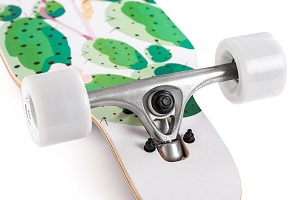 A Speed Racer for Sure
Flip trucks to 50 degrees, lube the bearings, and you will be amazed when your board cut corners like a beast. Its turning accuracy and responsiveness always standby for your riding trip.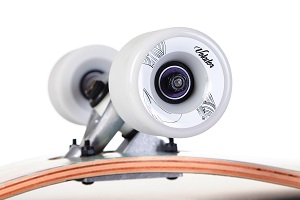 24/7 Round the Clock Service
Please do us a favor, kindly let us know when we made mistakes, a team member will follow up till your problems get solved. Also, we take care of other details to save your budget, like lathed pivot end to extend truck life.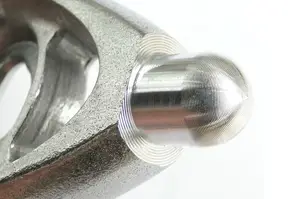 Technical Specifications as per Their Amazon Store Depicts
As an artisan work from our engineering team, the 42inch drop-through camber deck offers super flex and shock absorber.
8-ply natural hard rock maple and epoxy glue, healthy materials bring more fun and are better for the environment.
Genuine aluminum 7-Inch reverse kingpin trucks are adjustable as 50 or 45 degree and take to you great maneuverability.
Durable 70x51mm 78A PU wheels work with ABEC-9 precision bearings, letting you enjoy an unsurpassed smooth ride.
Designed by talents across the Atlantic. Graphics range from strikingly vintage to avant-garde looks.
Review from the Old User Perspectives
Reasonable for Entry-Level Rider
Overall, I'd say this is a very reasonable entry-level board that's priced well and is overall well-constructed. The deck is beautiful and lightweight, but the trucks and bearings could use switching out. Just getting a cheap set of Reds bearings on this would certainly make this a very good commuter board, and for the price of this board and a set of Reds, it's an extremely good deal.
I'd recommend this board. Just be sure to have your balance figured out or have a good, flat place to practice. The trucks don't tighten very well and could cause some people a little more frustration.
Trucks are Made of High-Quality Metal
I'm not sure if the trucks are made of metal. I'm almost under the impression that they aren't, but if they aren't, they're certainly made of high-quality material. I've yet to have too many problems other than them not tightening well.
Reasonable Price
Before I get too deep into my review, I am by no means an experienced skater. With that being said, as far as I can tell, this is an amazing board for the price. I tried to learn how to skate in the past, but I made the mistake of buying a skateboard from Walmart that cost $15 (NOT worth it at all).
Best for Beginner's Board
The wheels barely rolled and you couldn't cruise at all. If you want to learn to ride a longboard, it is definitely worth putting out a little more money for a decent board that actually functions properly, and is more stable.
I'm a fairly hefty gal, I'm about 5'7 and I weigh 220 lbs., and this board supports me just fine. The deck is springy, but it doesn't bend so much that I'm worried it's going to break on me (unlike the Walmart board).
Fantastic Graphic Design
The graphic on the back is very cute, and super vibrant, so I love it! The grip tape is very sturdy, to the point that it ripped a hole in my converse when I was cruising (no tricks or anything).
I'd rather the tape ruin my shoes than not hold me in place at all. Plus, the design on the grip tape looks sweet. As far as appearances go, white wheels aren't ideal for anyone who is a total neat freak. It looks great out of the box, but after my first ride, the wheels have taken on a grayish color.
Perfect Board for Wherever You Want to Go
I've waited two months before writing this review because I wanted to see how this board would hold up. Some background information, I've never had any skating experience prior to this board. I first got this board because I wanted to get around my university's campus faster. I bought this board not knowing what to expect. Currently, I take my board with me everywhere I go and ride it around to all my classes. I'd say I use this board at least 6 days a week and ride on it at least thirty minutes to an hour for all of those days.
Wheels and Bearings
The board comes with surprisingly good wheels and bearings (although I recommend using a tool to tighten or loosen the wheels because mine came a little too tight).
I bought an extra set of better wheels and bearings because I expected the ones that came with the board to be poor; however, in comparison, the ones that come with the board are just a little worse than the others I bought.
The trucks on the board have held up just fine. The art pattern/design still looks the same since day one, and the shape of the board makes it super easy to carve and make really sharp turns. Lastly, the board itself is sturdy and well made.
The durability of the Board
I've had many crashes and wipeouts which I believed would leave huge scars on my board or make something come loose, but to my surprise, the board still remains intact with minimal damage.
Highly Recommended for All
To summarize, the quality of this board has exceeded my expectations and it gets me around campus quickly every day. I would highly recommend this board to anyone who is looking for a board just to cruise around places like a college campus. Since this is also my first longboard, I would also recommend it to anyone who is interested in getting into longboarding.