Are you eager to hear about Minority Downhill Maple Longboard 40 inch drop deck review? It's really designed and manufactured for SPEED like 'Chita'!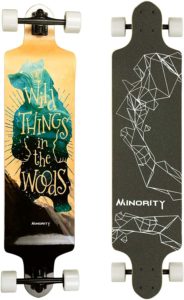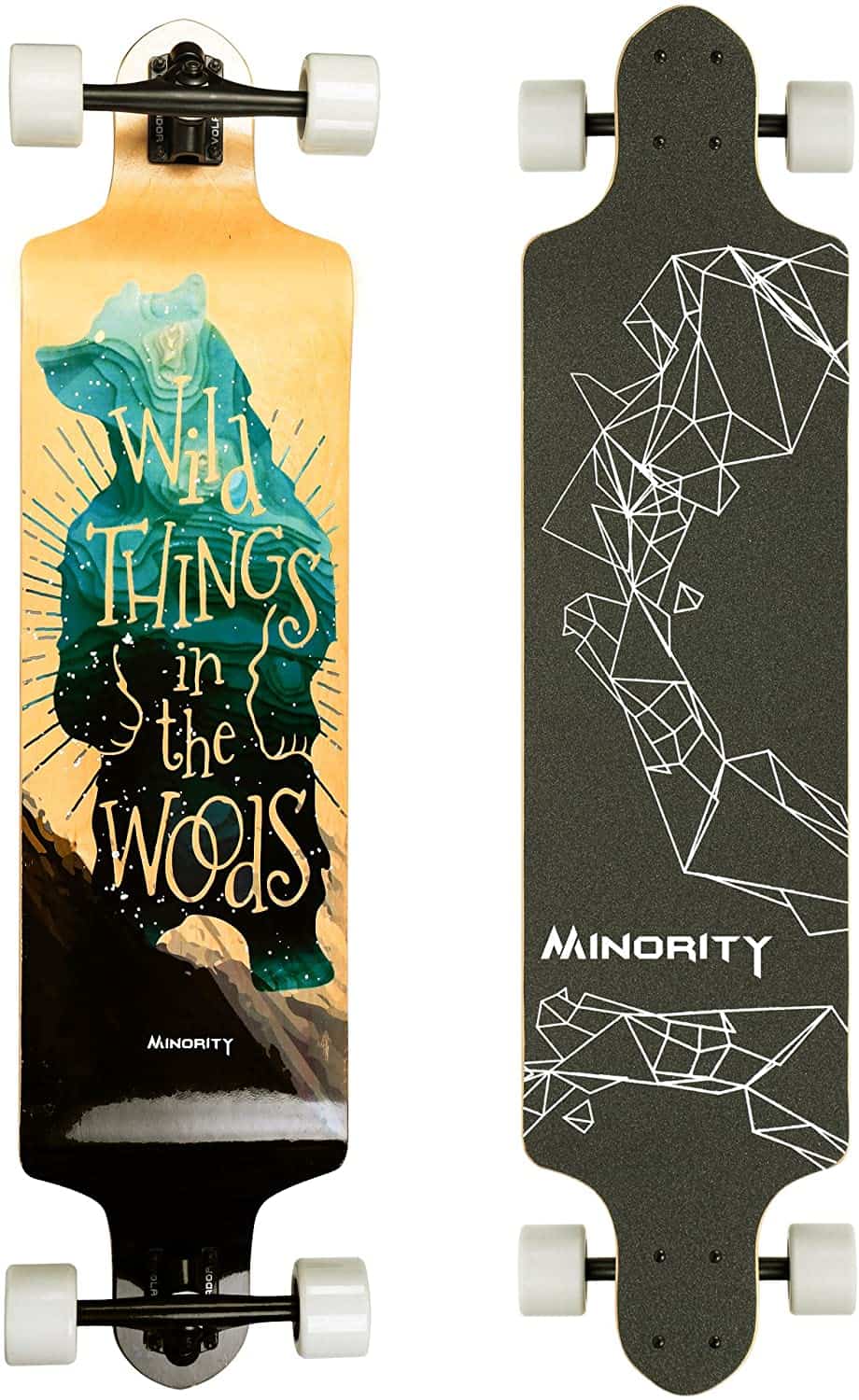 The Minority 40-Inch downhill longboard is an ultimate creation of aesthetic work of longboard engineering intent. Along with some extraordinary revolutionary advanced tech applied to – it is the exact response for a smoother and joyful ride.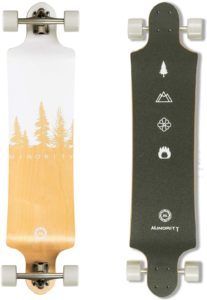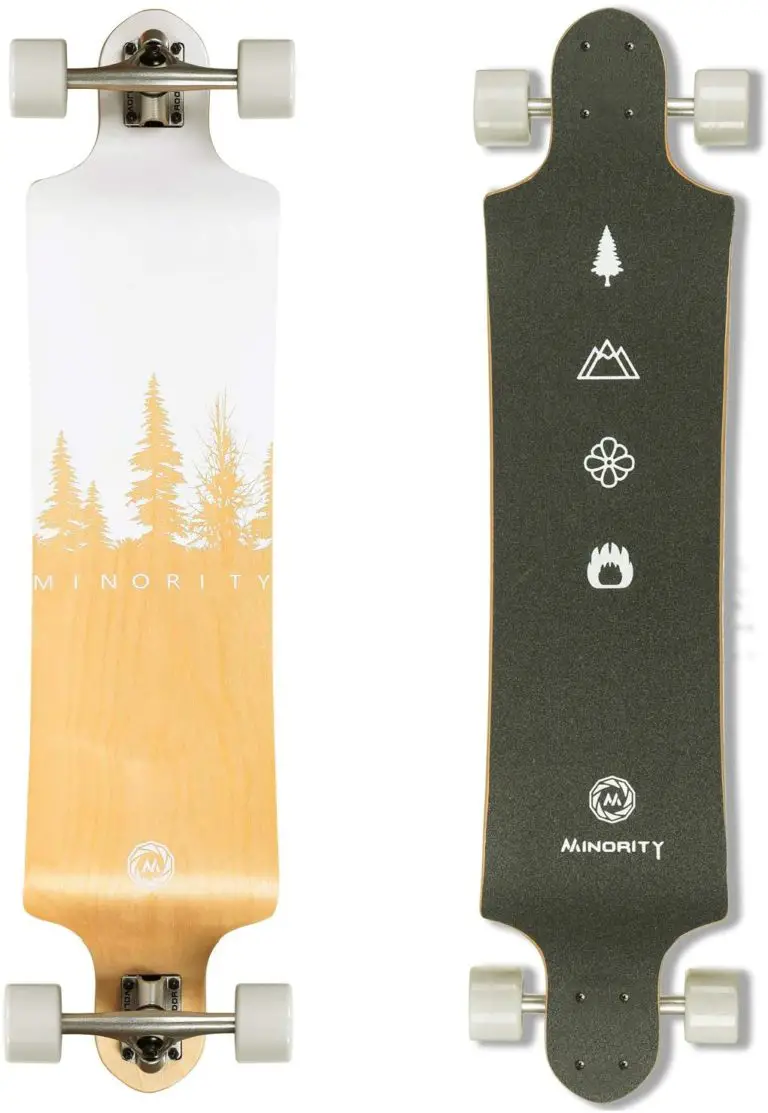 "Original Canadian 8-ply hard-rock maple get cold pressed for amazing physical performances and unsurpassed strength, strong enough to hold 220 lbs."
The unique balanced shape and design protect you wheel bite from any angle, so be calm and quiet and get pleasure from extraordinary maneuverability from this longboard when to ride with!
"The 7-Inch casted aluminum trucks are equipped with carbon steel axle and kingpin, adjustable between 45 and 50 degree for versatile riding style."
With the perfect arrangement of round edge 70x51mm PU wheels and ABEC-9 precision bearings, the board carves like beast-Chita.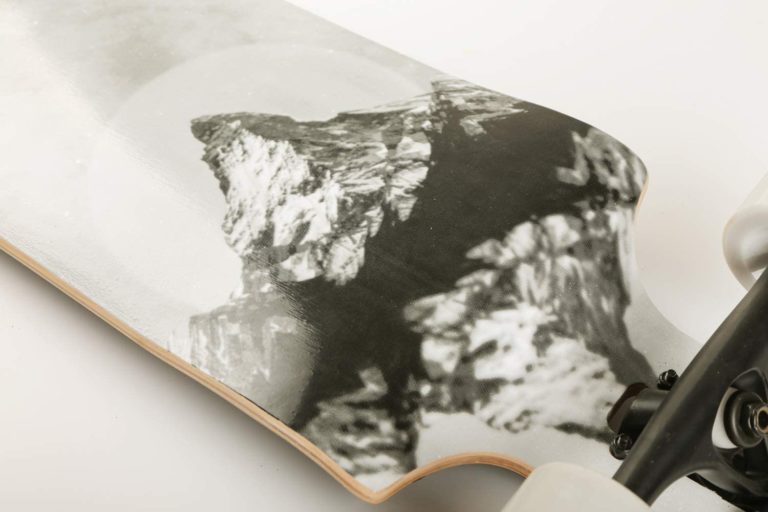 So what next? Warm-up your muscles, take a deep breath, give it a power paddle; now you are all set to cut corners in a freeride showoff.
To make your longboarding style as smart as you gather so many experiences to apply it when you ride. For smarter longboarding long experience is a crucial thing. It makes your longboarding style gradually like a perfect art.
Elaboration on Art:
Artistic work is always a challenging task for anyone. Artistic, creative ideas come from heaven. And combining those ideas collected from designers of different cultural backgrounds is challenging. However, riders of heterogonous tastes will find their perfect taste while getting that unique creation.
While designing the MINORITY Downhill Maple Longboard 40 inch Drop Deck, it kept in mind, perhaps, considering all the demographic characteristics of the rider groups disregarding their gender, age, and profession.
Enjoy Mother Nature When you Board:
A longboard is a perfect sport of choice to go near and embrace Mother Nature. Just pick on a perfect choice of board, stand still for a while and go for a downhill ride like a reckless bohemian, feel the breeze, enjoy mountain views, be freedom of everyday daily monotonous jobs.
It's perfectly a Stable Cruiser:
As a rider, you will get a 34-Inch strong wheelbase and broad 9-Inch width deck. Another way, you will get 45-degree trucks and a super shock absorbent deck. That is why your board serves as a perfect cruiser for hours' comfortable riding roaming out.
The beast of Speed:

Since you will get flip trucks of 50 degrees, you should lube the bearings perfectly; accordingly, you will be astonished when your board cuts corners like a Chita the beast of the fastest runner. MINORITY Downhill Maple Longboard 40 inch Drop Deck's turning accuracy and responsiveness always be ready for your prone to riding instinct.
Hi! Is it a good beginner longboard?
For the first time, I learned how to ride on aboard and it is a great fit for a beginner like you. Having a drop-down deck makes it closer to the floor and easier to keep you well balanced, the width of it is a bit bigger than most boards allowing you to shift your weight and move more on your board with more confidence to do things like turn.
It is pretty tall as well, 40 inches enough so you can stand anywhere on it, and even though you feel scared that it would flip over it really won't. As beginner board MINORITY Downhill Maple Longboard 40 inch Drop Deck is of a rating of 10/10. It is also cheap enough compared to other boards so far the quality is concerned.
Is it a drop-through board?
Not at all, it is only drop deck. There are lots of brands in the market that are dropped through. You can choose one of them for your particular need.
Give the rating (1-10) of the board-cruising, dancing tricks, and downhill?
If you ask me to give the rating mark of MINORITY Downhill Maple Longboard 40 inch Drop Deck in terms of cruising, dancing tricks and downhill drive I gonna rate that this way:-
For Cruising – 9/10 (10/10 with bigger wheels and better bearings)
Dancing – 3/10 (obviously b/c of drop deck going up)
Downhill – 8/10 (no wobbling at high speed, so far) Excellent board for the price!
9/10 cruising and downhill, 5/10 dancing, and 2/10 tricks.
What is the lifetime of the board?
It all depends on how you ride. If you are a beginner rider you're probably going to damage the ends of the board. But if you know how to ride like a Pro, and treat it with the care it will last a long time.
Is a rider with 220 lb can ride the board?
Good question, indeed! It is the manufacturer's prescribed limit. For me, I weigh more than that and have ridden the board without problems. It's very comfortable for cruising well.
Can I change the wheel with bigger size?
Come to the point if you look into the dimensions of the board, you'll see quite a bit of space for bigger wheels. Even with the bigger wheels, the board can't able to turn hard enough to have touched the wheels.
How is it on a rough road?
Trust me of not.  I was a dam newbie to longboards when I bought this one. As MINORITY Downhill Maple Longboard 40 inch Drop Deck is a drop deck so it must help you in various ways to stay on and loosen the trucks when you ride it. In every way, it is fantastically easy to learn how to ride it in bad and rough roads.
Does it scrape the earth on turns?
Yap this board is low compared to others. The board reaches halfway to the wheels and does scrape and touch the ground if you go too fast and hard. But, if you ride smoothly then it is OK.
Is the board recommended for a downhill drive?
For a downhill drive, you have to replace the existing bearings, wheels, and bushings. Carefully tighten up whatever bushings you need for downhill so that you don't get wobbly. This board has a cone bushing and normal bushing on each side as well and that will help you for a downhill drive.
Is it drop-through or drop-deck?
Literally said, it is both, drop down and drop through. It is very difficult to tell to see the image of the board. However, I have purchased and used this board and it plays the role of both- drop-through and drop-deck.
But things to be noted that you should be very careful and aware of this board riding when you make your carves with the board. Because the dimensions/design of this board is not done for the faint of heart, that is, it is too low, even for carving.
But if you remove the topmost bushing from each side, you will get more height so that it does not scrape as easily as you heard.
Product Specification:
100% maple wood deck
Imported
The 40-Inch longboard is constructed with the classic downhill drop model. Its low gravity construction is ideal for any speed ride.
Super strong 8-ply cold-pressed hard rock maple, 37-Inch wheelbase, spacious 10-Inch width deck, all these contributed to a stable downhill platform.
Genuine aluminum 7-Inch reverse kingpin trucks are adjustable as 50 or 45 degrees and take to you great maneuverability.
Durable 70x51mm 78A PU wheels work with ABEC-9 precision bearings, letting you enjoy an unsurpassed smooth ride.
Designed by talents across the Atlantic. Graphics range from strikingly vintage to avant-garde looks.
Product Dimensions: 40 x 10 x 4 inches ; 7.5 pounds
Shipping Weight: 7.8 pounds.
Pros:
40 inches in length
Lightweight longboard (7.5 pounds only)
Eight plies of maple woods in the deck
Aluminum casting truck
Reasonable in price
Long-lasting with attractive design
Cons:
Not for professionals
Weight capacity is lower
It scrapes the earth when carving
Final Verdict:
From the experts' viewpoint, this is the extraordinary board that keeps the riders to reach the top of the speed at a shorter time spell whereas, you will not lose balance. Yes MINORITY Downhill Maple Longboard 40 inch Drop Deck is perfectly a well-balanced longboard with your affordable price range.  In fact, a longboard accident usually happens for lacking its good balance in all respect.