Here is SISIGAD Hoverboard Self Balancing Scooter Review for you it is the best pick for the best budget or you can say the best value for money! It is for your information SISIGAD hoverboard's most models are manufactured keeping in mind that they will be the best fit for entry-level hoverboard users. Guess what- SISIGAD Hoverboard Self Balancing Scooter is best for young kids and children. Because of its having training modes, it has a smart self-balancing feature that makes it easier to ride.
Comparatively Lower Speed-Easy to Ride
Such a unique self-balancing feature makes it distinctive for new riders or for the pro riders alike. You know it takes more practice to learn how to ride a hoverboard for beginners, but SISIGAD Hoverboard Self Balancing Scooter makes it easy for sure. 
It is easy to learn to ride. It has 300-watt dual motors and a top speed of 9 MPH. I think you never want your kids to ride a hoverboard at such a high speed, especially when they are just starting out on these vehicles.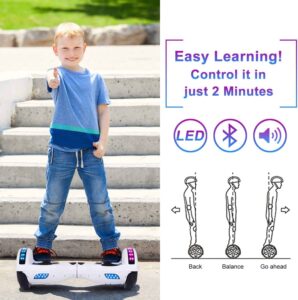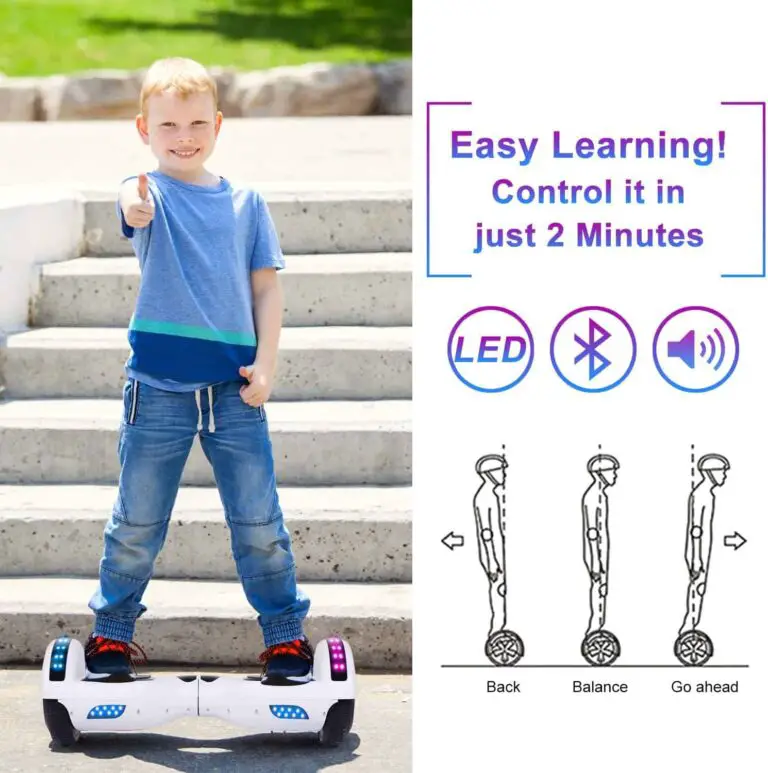 It Featured with LED Lighting System
There are various color LED lights in the wheels that pounding blue and two LED headlights so you can see where you are going on a gloomy evening or nighttime. This lightning system gives the riders a comfortable feeling of riding in dark nighttime.
Maximum Weight Capacity
SISIGAD Hoverboard Self Balancing Scooter has a maximum weight capacity of 260 lbs and a range of about 9 miles for each full charge of the battery, which is fantastic for this price point-no doubt. As I told you it is the hoverboard that you want if you are just starting out or the user of it is a damn newbie. 
UL 2272 Safety Standard
Uncompromisingly, it meets the UL 2272 safety standard. You should never pick any hoverboard that does not meet this Federal Government Safety Standard in respect of this specific product's safety issue.
Featured with Bluetooth Technology
Most of the all models of SISIGAD Hoverboard Self Balancing Scooter are ease to use hoverboards for newbs as it has a cool self-balancing feature that provides you best comfort when you get on and off from the hoverboard. Perfectly equipped with a lightweight frame, a great price, fun LED lights, and a built-in Bluetooth speaker that spread the feeling of full delighted amusement to the kids who want to ride while learning.
Pros:
Affordable Price
Significantly Light weighted
Really self-balancing Technology
Best value for your money
Cons:
It is not waterproof
Bluetooth speaker quality isn't great or up to the mark
Not too much durable
Comparison Table of Different Models of SISIGAD Hoverboard Self Balancing Scooter:
There are several models of this hoverboard in the market for meeting various customer-needed demands. Hereunder, I provide a comparison table of those models with their unique features and attributes. Pick on yours that best fit for you and for your kids. Go and shoot:
| | | | | | |
| --- | --- | --- | --- | --- | --- |
| | | | | | |
| | Pure Color Series | Fun Edition | Plating Dazzle Series | Off-road Series | Color Blocking |
| Wheels Size | 6.5″ | 6.5″ | 6.5″ | 8.5″ | 6.5″ |
| Color Options | Black, Bright Black, Carbon Black, Blue, Green, Pink, Purple, Red, White, Yellow | Graffiti, Starry Sky, Purple Galaxy, Pink Camo, Desert Camo, Woodland Camo, Carbon Green, Colorful Bubbles | Chrome, Gold, Rose Red, Blue, Light Blue, Purple, Green, Red, Black, Silver | Black, Grey, Yellow, Camouflage | Black+Grey, White+Grey, Yellow+Grey, Orange+Grey, Green+Grey |
| Charging Time | 3-5 Hours | 3-5 Hours | 3-5 Hours | 4-6 Hours | 3-5 Hours |
| Ultra Speed | 6 MPH | 6 MPH | 6 MPH | 9 MPH | 6 MPH |
| Weight-bearing | 44-200 lb | 44-200 lb | 44-200 lb | 44-260 lb | 44-200 lb |
| Net Weight | 20 lb/ 9 Kg | 20 lb/ 9 Kg | 20 lb/ 9 Kg | 30 lb/ 14 Kg | 20 lb/ 9 Kg |
Source: Amazon Store of SISIGAD Hoverboard Self Balancing Scooter
Warranty (from the date of purchase):
3 Months Warranty
30 Days Money Back
Product Specification:
Motor: Dual Hub Motors
Battery Type: Lithium high-rate 5C battery
Charging Time: 3-5 Hours
Using Time: 30-60 Minutes
Riding Range: 6 Miles
Weight-bearing: 44lb to 200 lb
Max Climbing Angle: 10 Degree
Wheel size: 6.5″" Tire
Net Weight: 20 lb/ 9 Kg
Package Contains:
1 x Two-Wheels Hoverboard
1 x Power Supply Charger
1 x Manual
Additional Important Information/Precations When to Ride:
Please fully charge before using for the first time. Pull the plug after charging to avoid overcharging.
Remember that the range of motion should not be too large, as far as possible to avoid excessive tilt.
Children should be accompanied under the guardianship of an adult, and the speed should not be too fast.
DO NOT swerve at high speed.
DO NOT start or stop operation on a slope, as to avoid damaging the self-balacning system or causing function errors.
DO NOT operate the hoverboard when the ""BATTERY LOW"" indicator on.
How to Connect with Bluetooth:
Turn on your phone's bluetooth;
Start the hoverboard;
Find the corresponding device which named as ""Bluetooth"" and click connect.
You will hear a sound like ""Ding-dong"" from the hoverbaord.
Then you can open the music app and enjoy music. And the volume can be changed by adjusting the volume of your phone.
How to Reset Your Cool Gadget If Needed:
Turn off your hoverboard.
Place your hoverboard on the ground, make sure your hoverboard is not tilting in any direction and calibrate balance in a horizontal level.
Hold down the power button for at least 20 seconds.
Power off the hoverboard and turn it back on.
Please try resetting your hoverboard again if the first attempt did not solve the issue.
FAQ:
Question: I'm about 180lbs, can I ride it?
Answer: Yes, you are covered the weight limit is 44-260.
Question: How long does it take to learn how to ride on?
Answer: It depends on the age of the rider! Usually, it takes 5-10minutes for 9-10 years old kids.
Question: I have heard that the battery might blow up-is it true?
Answer: Not at all, these are completely safe.
Final Verdict
SISIGAD Hoverboard Self Balancing Scooter basically produces and comes to the market for newbie and young users. This hoverboard is safe and value for money-no doubt. It is light weighted, comparatively smaller in size, well-constructed, and safe to ride. It is UL 2272 certified. So, you never need to bother about hoverboard safety issues if you buy it for yourself. Don't ask yourself are hoverboard dangerous or safe? Pick it and go for a nice romantic ride with your kids and children. In my viewpoint, it is one of the best hoverboards available in the market.