​Want to get your hands on a good electric skateboard? Before you buy, read our review guide and find out the best options.
Are you still doing research to find the best electric skateboard? Then you've come to the right place as I have gathered here the finest electric skateboards right here.
While these skateboards operate on the same principle, their features differ and that makes a huge difference in terms of performance.
A quick note: I've been skateboarding since I was a kid and tried all the major products and brands in the market. Trust me when I say that the following are indeed the cream of the crop.
All right, let's examine each one.
BLITZART Huracane 38″ Electric Skateboard.
Performance:
The Huracane lets you cruise or accelerate the way you want. Fully assembled, it's a lot of fun to ride and good for short distance transportation too.  With a top speed of 17 mph the Huracane is one of the faster skateboards around. Reverse function is excellent and construction is solid.
The wireless remote works seamlessly with the board, great especially when going at high speed. For all its power the Huracane is easy to use. Even if you've never skated before, just make sure the Huracane is fully charged and you'll reach the stated speed and range. The wide helps when you're balancing too.
Reversing is simple and reliable, plus having large wheels provide extra assurance.  The skateboard is fastest on smooth terrain but it's also good for bump terrain. Acceleration is good and braking is responsive too. Instructions are provided that add make the Huracane even easier to use.
Specifications​:
Motor – 350 watts.
Top speed – 17 mph.
Range – 10 miles.
Battery – lithium ion.
Deck – bamboo and maple.
Grip tape – premium.
Pros:
Fully assembled.
Excellent regenerative brake.
Ergonomic design.
Smooth wheels.
Cons:
2. Atom Electric B.10 Skateboard.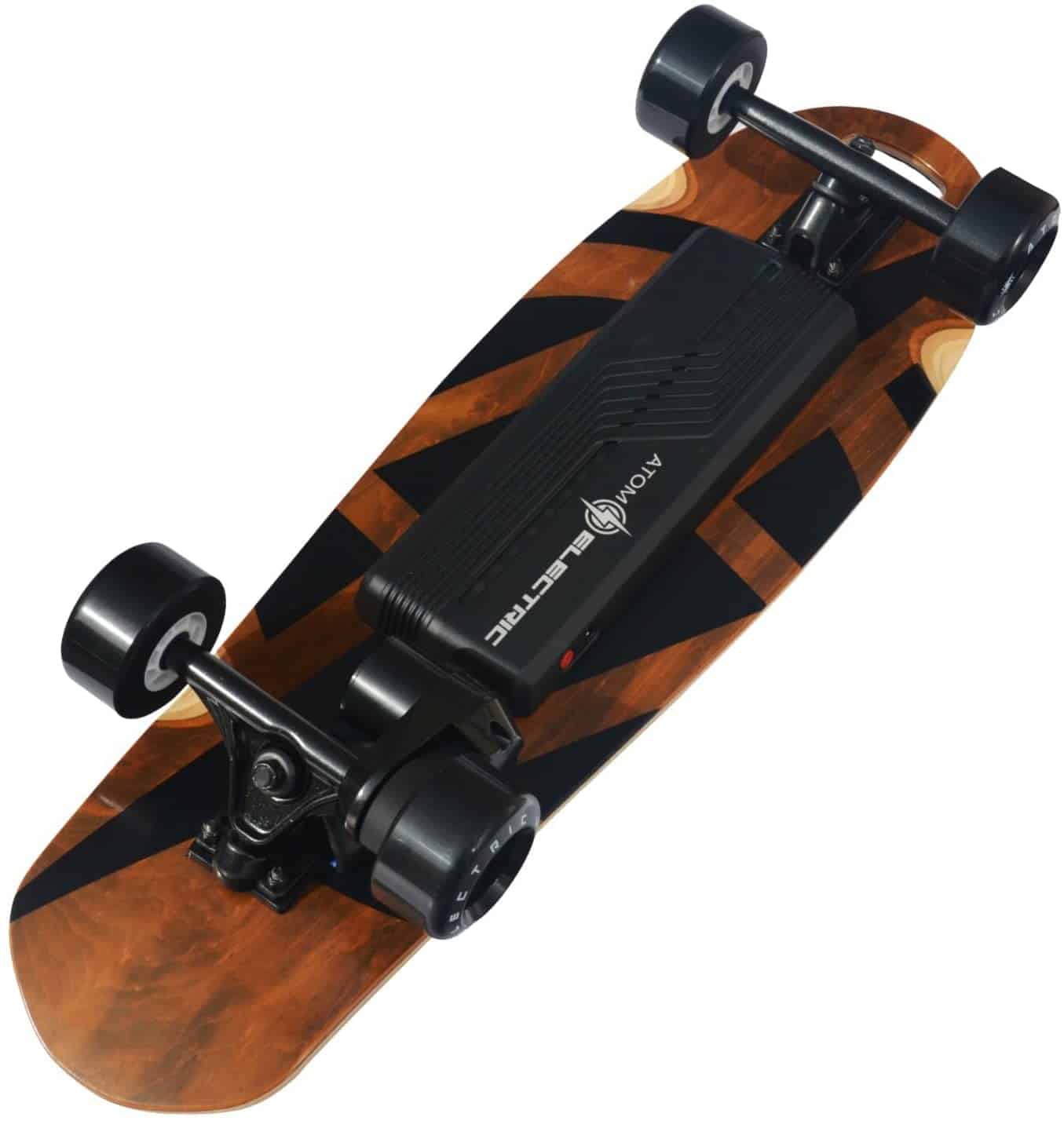 Performance:
The B.10 claims to be for beginners and advanced riders, and it lives up to that claim. It's also solidly built and holds to long use. The B.10 runs fine out of the box though you can tinker with the trucks if you want. The deck doesn't just look good but also feels good as well.
Since the board is assembled you can use it right away. As long as it's fully charged you'll be able to take the B.10 up to 17 mph. The board isn't that big but it's surprisingly strong. The advertised range and distance are attainable if it's a full charge.
The B.10 is also good at uphill climbing and can handle most terrains. Speed will slow down when you're uphill but it's still good. The B.10 also scores points for being easy maintain.
Specifications:
Motor  – 1000 watts.
Battery – lithium ion.
Max Speed – 16 mph.
Range – 7 miles.
Grade – 12%.
Motor type –  belt drive.
Weight – 11 lbs.
Pros:
Powerful motor.
Long battery life.
Durable.
Good range.
Cons:
Not as fast as other electric skateboards.
Not adept at hill climbing.
3. Boosted 2nd Gen Dual+ Standard Range Electric Skateboard.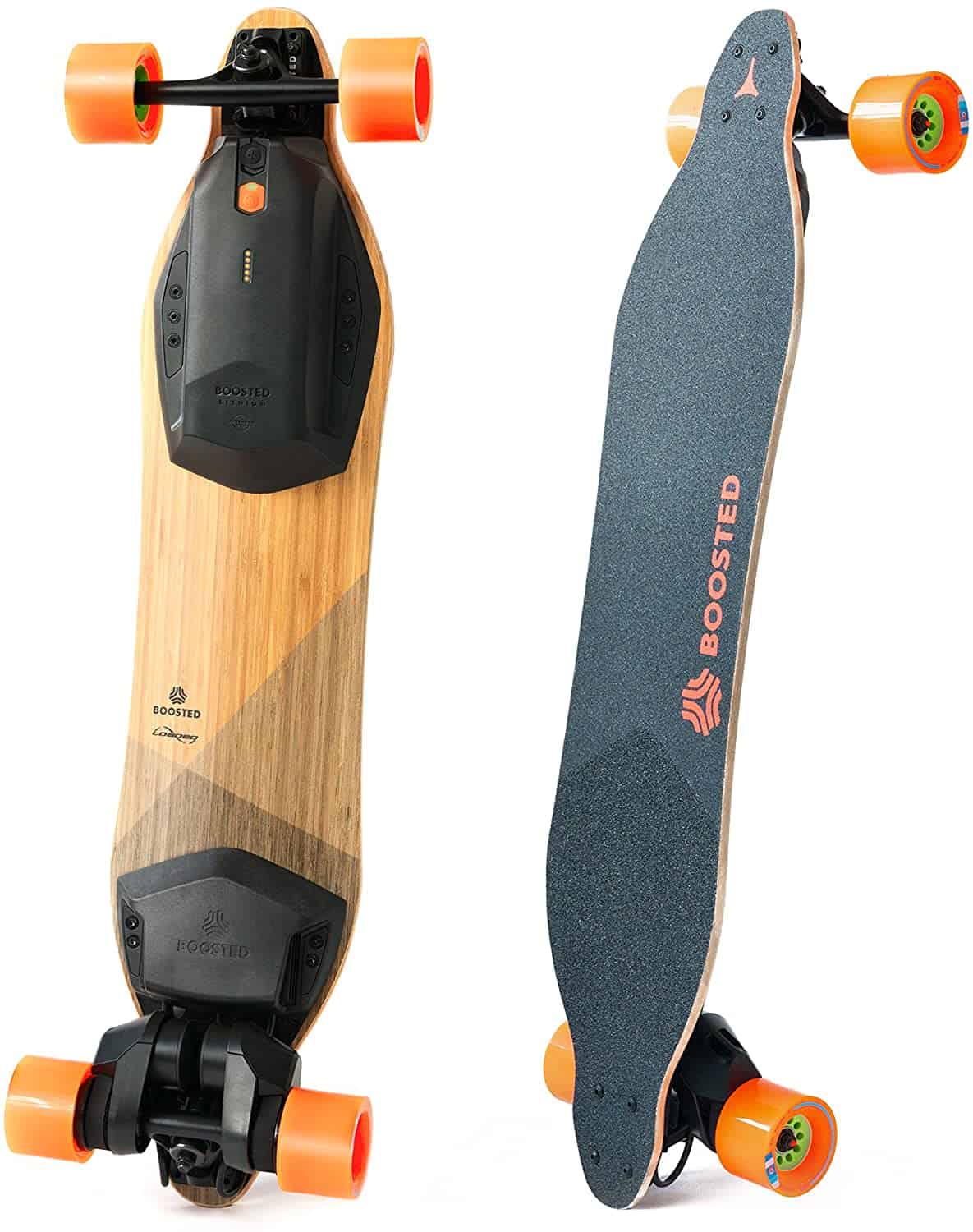 Performance:
The Boosted 2nd Gen is aimed at riders of different experience levels. Once out of the package and fully charged you're ready to go. With a range of 8 to 10 miles it's ideal for short term commuting. Even if you're not an expert on skateboards the Boosted is good for transport and fun.
The wide wheels and the flexible board allows the Boosted to ride smoothly even on mixed surfaces. The belt is also durable and won't need a change until every 200 miles or so.
Depending on how often you use it, a belt change may not be needed for several hundred miles.
The stable design of the Boosted means even a novice longboarder can use this. You may want to start at low speed though and work your way up.
Specifications:
Power – 2000 watts.
Climbing grade – 25%.
Top speed – 22 mph.
Battery range – 6 to 7 mph.
Dimensions – 38 x 11 x 5.8 inches.
Pros:
Built for long term use.
Excellent control.
Good range.
Portable.
Cons:
Cannot be used on icy or wet pavements.
A bit too fast for absolute beginners.
4. BLITZART Tornado 38″ Electric Skateboard.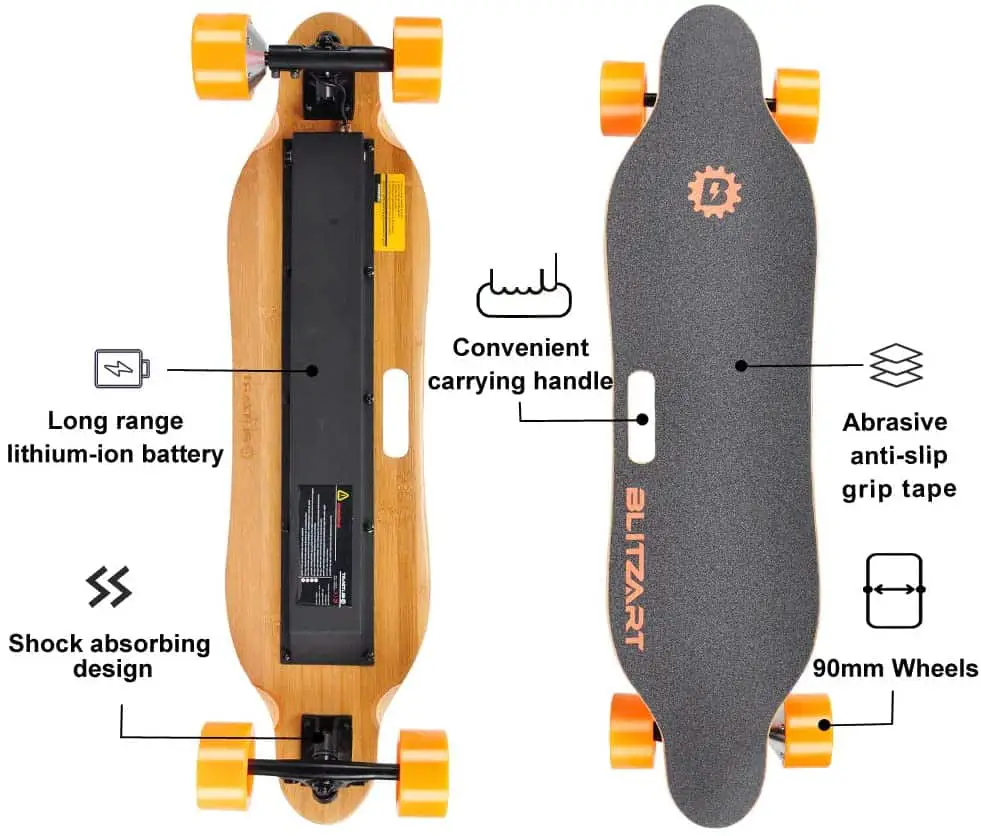 Performance:
The Tornado is powered by a 350 watt motor that allows for a top speed of 17 miles per hour. Its battery takes just two and half hours to charge and has a 10 mile range. Since the Tornado runs on lithium ion batteries it's going to run longer than most.
There are half a dozen layers of wood on the deck, 2 bamboo and 6 maple, with the bamboo sandwiching the maple. This gives the board extra versatility even on long rides.
The surface ensures your feet are balanced and it can handle up to 250 lbs. This longboard is pre-assembled so you can ride immediately.
The wireless remote is very responsive so you can brake and accelerate quickly. It has o speed options and there's even a function to aid in your getting on and off the skateboard. You can also recharge the remote control for continuous use.
Specifications:
Top speed – 17 mph.
Motor – 350 watts.
Length – 38 inches.
Deck – bamboo and maple.
Range – 10 miles.
Pros:
Comes in different colors.
Good range and speed.
Responsive remote.
Well built deck.
Cons:
Remote feels flimsy.
Limited instructions.
5. Atom 95X MountainBoard.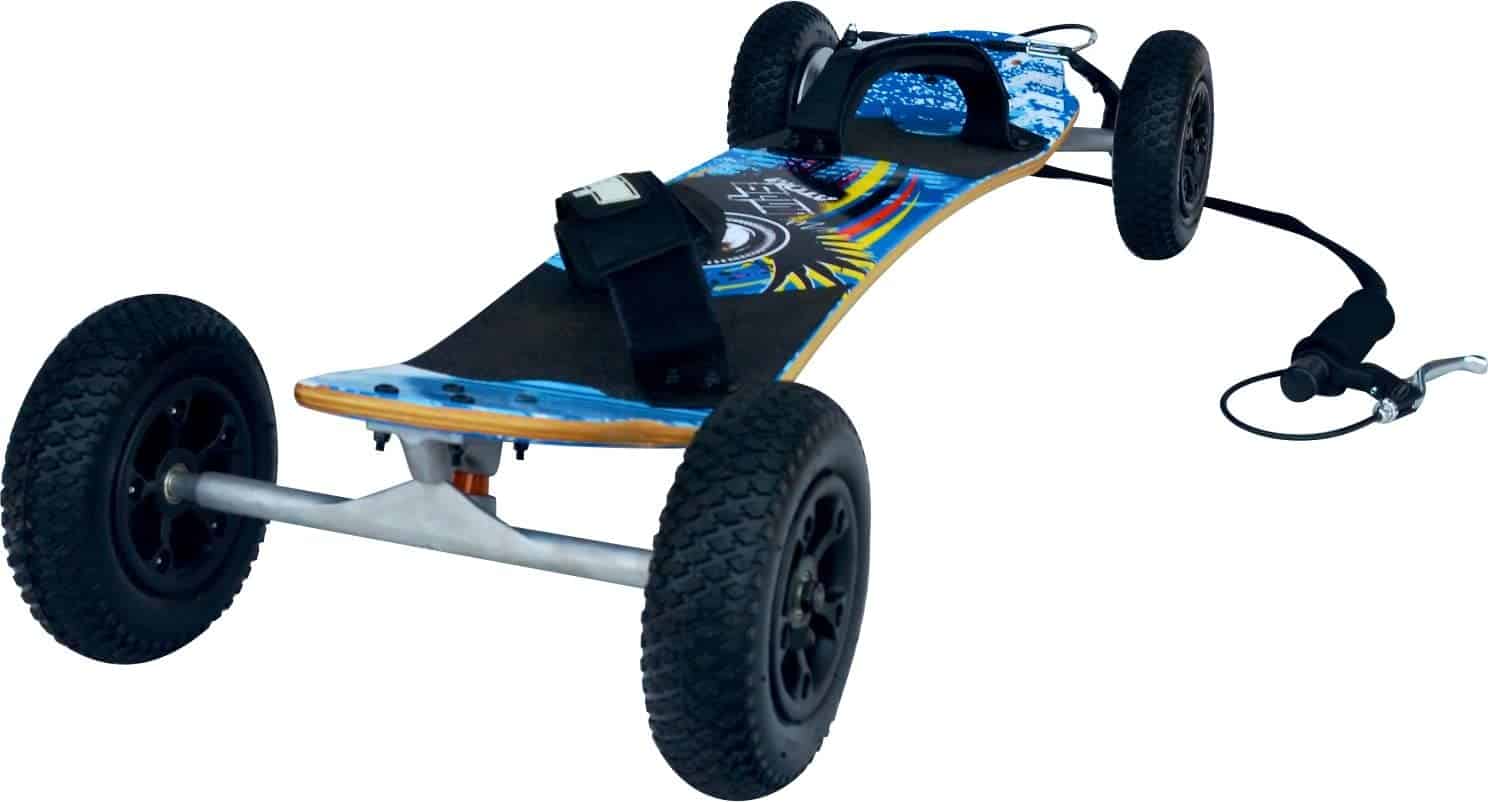 Performance:
The 95X MountainBoard is a no-nonsense longboard that's aimed at casual skaters and riders. It is very stable so you'll always feel safe even when cruising at high speed. You can put up to 40 psi or more in the tires to get even more speed. Even when the 95X goes fast it doesn't wobble.
The weight capacity is 220 pounds so it should be fine for average sized individuals. The brakes are responsive and the grip tape is secure. The board itself looks great and is durable enough for dry land and urban rides.
It is flexible enough to be used by advanced skaters and those who just want to use the board for short commuting.
The bottom line is the 95X runs consistently and you'll be comfortable in it. The deck's dimensions also provide you with sufficient room.
Specifications:
Trucks – All Terrain Skate (ATS).
Length – 43.2 inches.
Deck – maple laminate.
Grit tape – 46 grit aluminum oxide.
Deck tip angle – 20 degrees.
Pros:
Suitable for adults and teens.
Great for recreational use.
Superb F1 bindings.
Smooth ride.
Cons:
Small for large adults.
Not very good on rough terrain.
6. Atom Longboards Atom All-Terrain Longboard.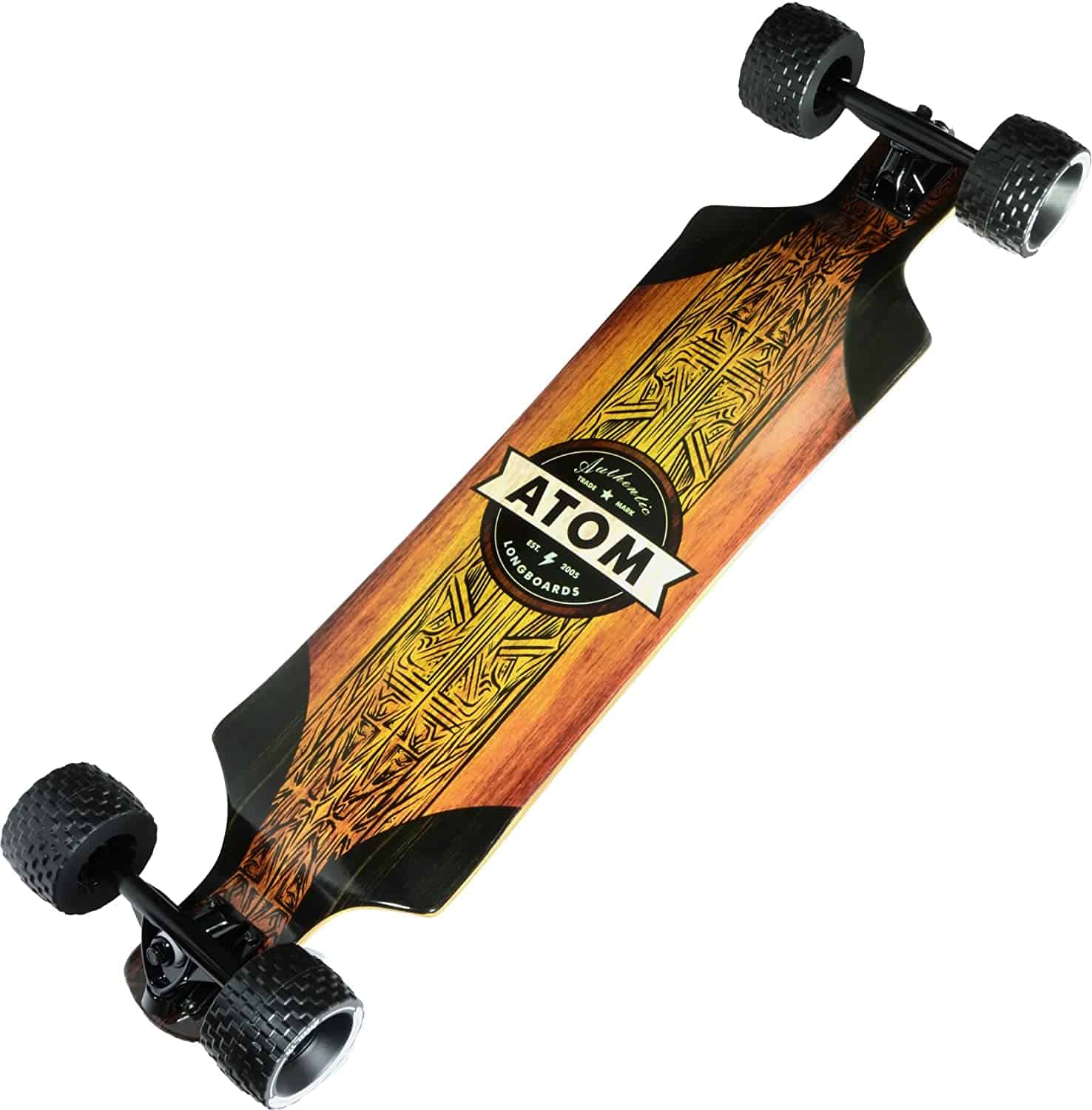 Performance:
As the name implies the Atom is designed for all kinds of terrain and it doesn't disappoint. Unlike other longboards this one is truly capable of handling different terrains without breaking down. Even on asphalt, rough surfaces etc it holds up fine.
Loose dirt and gravel don't pose any problems and won't slow you down. The wheels are well constructed and the deck comes with some flex. It doesn't have as much as other longboard skateboards but it's not a big deal.
The bottom line is whether you're on a smooth surface, trails, sidewalks and other surfaces, the board remains consistent.
As should be obvious from this review this is more of a practical skateboard than one for doing tricks. The 46 grit grip also lives up to expectations and does what it should.
Specifications:
Length – 39 inches.
Wheels – MBS 100mm x 65mm all-terrain.
Grip tape – 46 grit coarse.
Bearings – ABEC 9 rubber shielded.
Trucks – grade 8 reverse king pin.
Pros:
Suited for on road and off road ride.
Superb bearings.
Beautiful deck.
Sturdily built.
Cons:
Wheels are a little soft.
Not suitable for complex tricks.
7 .Razor Ripsurf.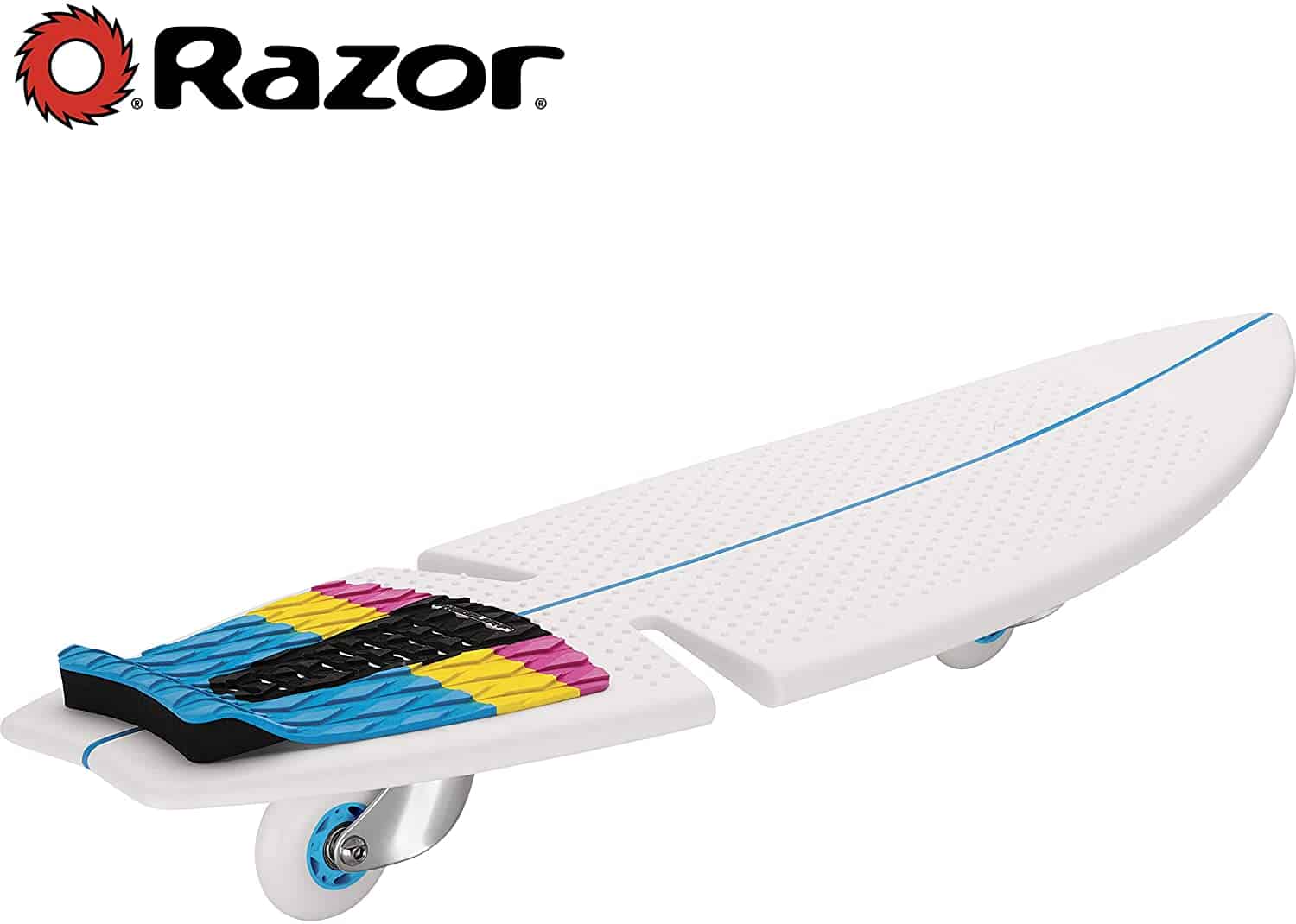 Performance:
The Ripsurf promises a lot of fun and it delivers. Not only does it resemble a skateboard but it also feels like one.
If you've surfed on one before you'll get the same feeling with this. It isn't as fast as a surfboard, but that is actually a good thing as it gives you time to get used to this.
It may take some getting accustomed to, but once you're used to surfing on land then you'll see just how smooth the Ripsurf is. You'll want to start on flat terrain but you can also try this going downhill and even a bit of uphill.
Another good ting that I can say about the Ripsurf is that it allows for wide and fast swivels, and that translates to more fun when you're on it.​
Specifications:
Wheels – 360 degree urethane.
Weight capacity – 220 lbs.
Dimensions – 32.2″ L x 10.7″ W x 6.0″ H.
Deck – reinforced fiber polymer.
Weight – 5.25 lbs.
Pros:
Rides like a surfboard.
Lightweight.
Well designed traction pad.
RpiSilk technology is well implemented.
Smooth wheels.
Cons:
Has difficulty going over cracks.
The wheels don't look too durable.
8. Penny Nickel 27″ Complete Skateboard.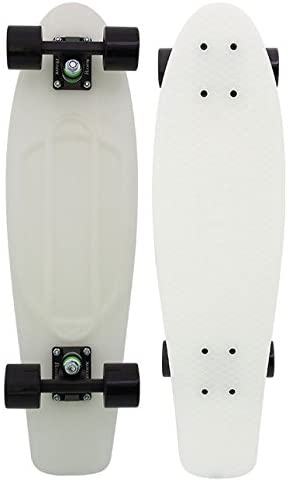 Performance:
The Penny Nickel is a versatile skateboard, suitable for advanced skaters and new ones. With its ABEC 7 bearings the Penny Nickel moves smoothly even when you're riding at high speed. The wheels also complement the bearings and keep the board safe and comfortable even when you're cruising.
The board is available in two sizes, 7.5 x 27 and 6 x 22 inches, and they're both stable. As a skateboard it is ideal for having fun and cruising, plus it is durable enough to be used for commuting and transport.
The Penny Nickel is well balanced and there is enough space to ensure your feet don't fall off. If you have never tried this model before – or a skateboard for that matter – you can go on a bit of a test run.
Give yourself a few hours and you'll feel the difference compared to other longboards and skateboards.
Specifications:
Length – 27 inches.
Width – 6 inches.
Wheels – 78A 59 mm.
Trucks – 3.1 inches.
Bearings – 7 ABEC.
Pros:
18 colors available.
Solid deck.
Excellent bearings.
Lifetime warranty.
Cons:
Paint job could be better.
The deck isn't that big.
9. Penny Classic Complete Skateboard.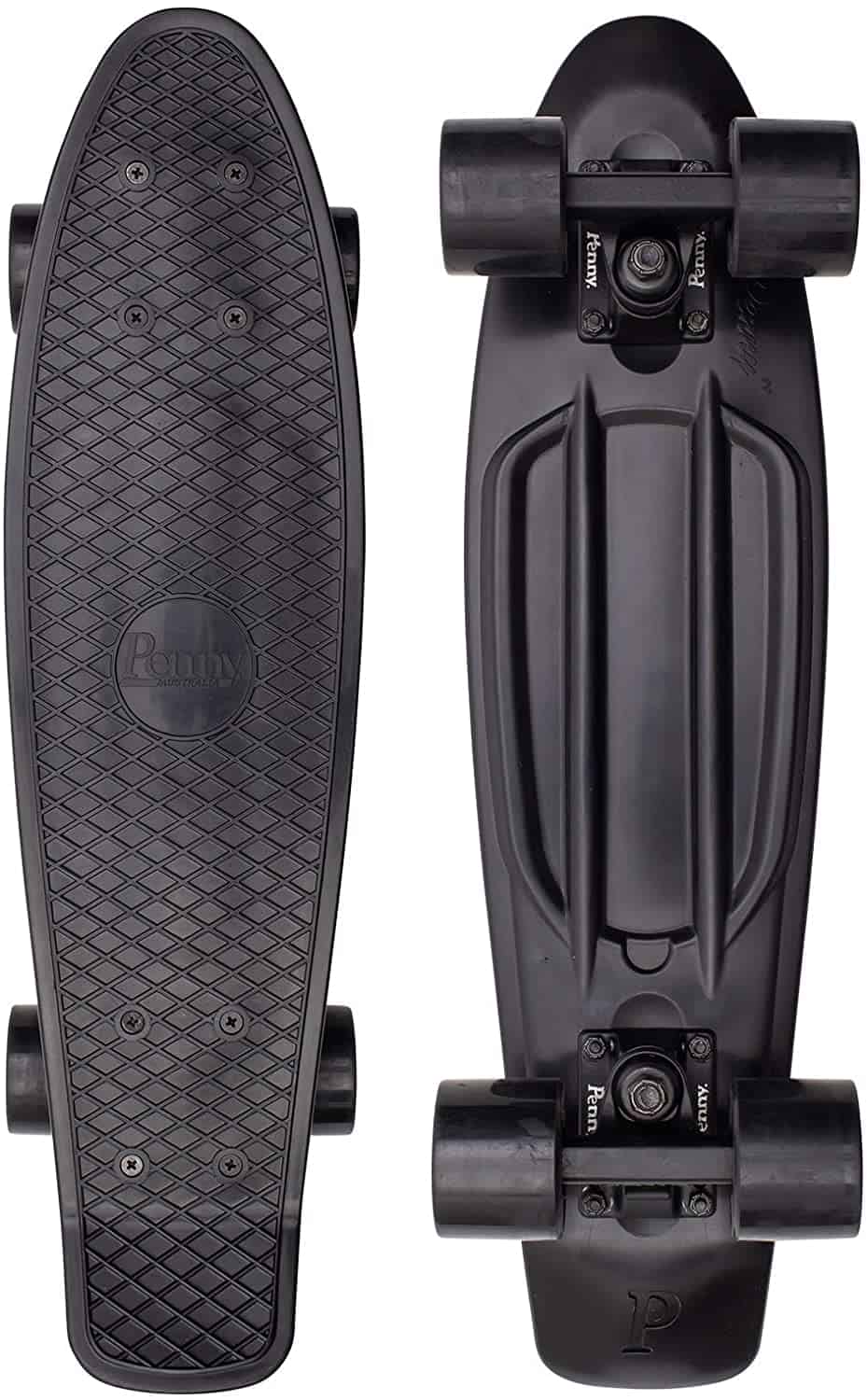 Performance:
The Penny Classic earned its name for being durable and an all-around skateboard, and this version is the real thing.
The fact that it has a lifetime warranty tells you a lot about the quality and it is trusted by a lot of skaters. Its stainless steel bearings are smooth and work well with the nonslip deck.
You will quickly realize what a genuine Classic Penny is like when you get on this one. The wheels are smooth and well suited for various surfaces. If you're a long time skateboarder then you know what to expect with this one. If you're new, this is a good way introduction to skateboarding as it is safe and simple to use.
The overall quality is high, from the smooth bearings to the deck to the wheels, it is easy to see why this has been given the thumbs up by a lot of skateboarders.
Specifications:
Wheels – 59mm 83A.
Bearings – ABEC 7.
Deck – Classic Waffle nonslip.
Dimensions – 22 x 6 inches.
Trucks – 8 cm Penny.
Pros:
Portable.
Smooth bearings.
Responsive.
Durable construction.
Genuine Penny.
Cons:
200 lb weight capacity.
Too small for large individuals.
Conclusion:
Coming up with the best electric skateboard was challenging as there are so many good ones. But I am confident that whichever of the 9 skateboards you go with here you'll be able to skate the way you've always wanted to.
No doubt some electric skateboard will prefer one over the other, but in the end it is up to you to pick out the skateboard that suits your style.