Smooth riding experience largely depends on the wheels. If the wheels roll smoothly, you are going to get more than expected comfort. Besides that, your control and balance also depend on the wheels. This is why it is being highly important that you invest in a good set of wheels that will support you all the way! So, here we are for you choosing the best longboard wheel!
Having said that, how are you going put your eyes on the right set of wheels when there will hundreds be displayed on the shelf? No worries, I got you! I am going to present you 10 best longboard wheels set and I am pretty sure you are going to find the right one for you in a while.
So no ado, let's get started!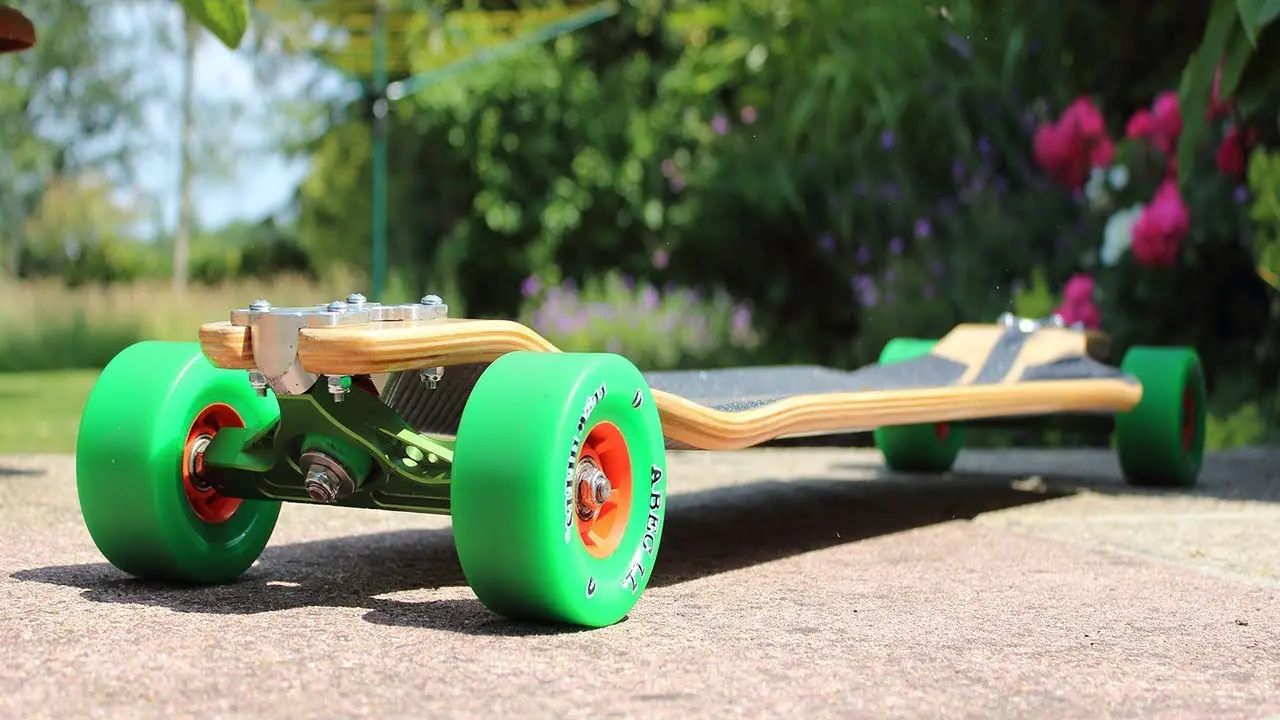 Why Do You Need to Pick the Right Wheels? 
There is a couple of reason why you should pick the best wheels for your longboard. Some major reasons are given below,
Who doesn't love smooth rides? And how smoother your ride will be depending on the wheels.
Good wheels will offer you the needed amount of grip and traction, allowing you to ride comfortably and safely.
There are wheels that are designed for rough riding and there are some designed for simple cruising. So for a good experience, you should choose the wheel according to your riding style.
The right set of wheels will give you full control and will serve you for a decent amount of time.
The 10 Best Longboard Wheels Reviewed
As I mentioned back, there are more than a couple of dozens of wheel brands in the market and only a few of them are worth buying. And to find those few I have gone through a tough phase of comparing the most sold models.
I have checked and compared their durability, performance, brand value, and real user feedback. And then finally, I got the following wheels which have proven to be on the worthy side!
1. Shark Wheel Sidewinder Longboard Wheels
The Shark Wheel is one of the leading brands of the industry and their fans say, they never fail to impress the market with their innovation. I started to believe that after seeing the Shark Wheel Sidewinder Longboard Wheels. I am not sure if you have seen the design, but when you see it for the first time you will surely get shocked thinking do they even roll?
The wavy-edge shape of this wheelset surely caught a lot of attention, like it caught mine. However, I wasn't really sure about getting these wheels because I had doubts about the performance because of the wheel design. Then I saw the manufacturer is offering a total money-back guarantee. Then I decided, let's give it a shot, if anything goes wrong I'll get my money back.
And the unexpected happened! I felt really guilty for thinking so bad about these wheels. You won't trust me, I tried them and they were amazing! The smooth and fast speed has really got me; I am in love with this set. I noticed better control and traction than the traditional wheels. Even after coming in a wavy shape, the wheels are completely flat.
I have been using this set for a month now and don't have much to complain about. It is enough to give you a smooth experience and comes in different colors.
Pros
Catches speed faster.
Offers smooth riding.
Good balance.
Delivers nice traction.
Offers good slide control.
Cons
According to a few users, these wheels don't last long!
2. Spitfire Bighead Skateboard Wheels
Do you love to perform tricks and looking for a set of wheels that would be compatible? Then have a look at the Spitfire Bighead Skateboard Wheels. This one is already trending in people's hearts for its efficiency on smooth surfaces, it runs outstandingly on smooth surfaces.
And the best part of this very wheel is, it comes with a 99A durometer and is one of the hardest wheelsets. After it, whoever is thinking about the durability of this wheel is a fool. Besides that, the brand itself is pretty famous for delivering quality products to the market for a long period of time.
As I mentioned at the beginning, these wheels are picked by professionals and according to them, this set of wheels are great for performing tricks. And when the right diameter is used, it offers impressive speed as well.
However, it comes in different diameters, 50mm, 51mm, 52mm, 53mm, 54mm, 57mm, 59mm, and 63mm. Choosing the right diameter is on you! With a different diameter, it comes in different colors as well, allowing you to choose the one you prefer.
Pros
Offers professional-level hardness.
Comes in various diameters and colors.
Performs impressive on a smooth surface.
Constructed with heavy-duty materials.
Comes in Iconic Bighead design.
Cons
Not very smooth on rough surfaces.
Not suitable for beginners.
Shark Wheel Sidewinder Longboard Wheels Vs

Spitfire Bighead Skateboard Wheels
Here these two wheelsets are completely different from each other. Stating with the Shark wheel sidewinder, this set of wheels offers greater balance and traction which makes this an amazing choice for beginners. Plus, they come in impressive design as well, with wavy edges.
On the other hand, the Spitfire bighead model doesn't offer much balance but is a professional level wheelset. With 99a durometer, this is one of the hardest wheelsets in the market. And also professionals pick for performing tricks.
3. Big Boy 70mm Gel Solid Skateboard 
Are you on a tight budget and looking for a model that will offer good value at an inexpensive price? If yes, then you got one already! The Big Boy 70mm model is a great longboard wheel model for the money. And at such a cheap price, you are not only getting four wheels but spacers and bearings as well.
These wheels are highly versatile, you can have amazing cruising and commuting experience with these wheels. And they are excellent in downhill rides as well. That being said, you shouldn't do downhill riding with these wheels often.
You can expect decent durability from these wheels. They can withstand some heavy wear and tears. Overall, the Big Boy 70mm longboard wheels are a great choice for having smooth longboard rides.
Pros
Comes in a cheap price range.
Offers gentle durability.
Best for cruising around.
Smooth riding experience.
Speedy wheels.
Cons
Makes little noise.
Not for rough riding.
4.  OrangatangCaguama 85 mm Longboard Wheels
If you are a heavy rider who goes through rough and tough surfaces, then this OrangatangCaguama 85mm Longboard wheels might be a good option for you. One thing that I love the most about this wheelset is its speed gain. First of all, it is super faster. And then it gains the speed faster with very less paddling.
It is one of the best longboard wheels for cruising. Plus, this very wheelset offers great traction which results in smoother and enjoyable rides. I think the main reason behind the top-notch performance of this wheel is the rounded extra-large 85mm diameters and the 56mm contact patch.
With these wheels, I don't think you are going to need risers. Anyway, let's move on to the durability part. Many users have already taken these wheels over the toughest roads including cracks, small rocks, sticks, and these wheels seem to withstand all of them pretty nicely. So I could say, if not highly durable, the OrangatangCaguama 85mm Longboard wheels are enough to last for more than a year.
I almost forgot, this wheel has a core of 46mm and that provides a lot of momentum which results in quick accelerating. Not only is a longboard, but this OrangatangCaguama 85mm Longboard wheels can also be installed in skateboards as well if you want a smoother ride.
Pros
No deck biting.
Offers good speed.
Offers a great grip.
Can withstand some heavy wear and tear.
Quick acceleration.
Cons
The price of this wheelset is slightly on the expensive side.
Would not be a suitable wheelset for light riders.
Big Boy 70mm longboard wheels Vs OrangatangCaguama 85mm Longboard wheels
These two-wheel models are quite different from each other. Starting with the BIG Boy model. This one is great to pick for the budget. You will get balance, stability, grip, traction, and speed with these wheels, and comes at a cheaper price. But they are not for rough riding.
On the flip side, OrangatangCaguama wheels are for rough riding. They are heavily constructed and can withstand bumpy or rocky roads impact easily. However, they are expensive as well.
5. Blood Orange Liam Morgan Pro Longboard Wheels
Are you a beginner longboarder looking for a set of the wheel that makes the starting easier? And since you are a newcomer, then you might not be comfortable spending big bucks on wheels, correct? Guess what? I have got both your need covered and just presenting you with something that offers good value at a cheap price!
The Blood Orange Liam Morgan Pro Longboard Wheelset is a great choice for newbies since it offers great control and balance. And the price of this set is also super low compared to other models of the market.
With a 70mm tall, 32mm wide, and 2.5mm offset core this wheelset will offer you both the speed and control you need. You can make drifts with these wheels without compromising any traction at all. And with a 2.5mm core, you will get increased acceleration which means you won't have to paddle much to get a good speed.
Pros
Comes in various diameters.
Good core.
Comes at a cheap price.
Easy to slide.
Smooth riding experience.
Offers good balance.
Cons
Not for professionals.
Gets dirty faster.
6. Fireball Beast 76mm Longboard Skateboard Wheels
The Fireball Beast 76mm longboard wheelset is another top-notch set that offers everything to be included in the skating inventory. Fireball skate is a high-quality brand that makes sure their products are well-produced and that reflects in this wheelset. Durable and top-notch quality, this very set of the wheel got both!
They are constructed with heavy-duty materials which will give you a long-lasting service and performance? If you want to get assured about how nice performance it offers, just head over to the user review section, loads of satisfied user feedbacks will blow your mind. It delivers superb performance.
The Fireball Beast 76mm longboard wheels are actually speedy beasts. These 76mm diameter wheels along with a high durometer and offset core delivers the needed amount of balance. The wheels also come with beveled edges.
And before I forget, with this very model you are getting features such as high-speed, balance, control, smoothness at an affordable price. If you are looking for a set of wheels that will offer you good grip and control, you won't get wrong with this Fireball Beast 76mm longboard wheelset.
Pros
Comes at an affordable price.
Offers good balance.
Smooth riding experience.
Fast acceleration.
Delivers great grip.
Cons
Blood Orange Liam Morgan Pro Longboard Wheel Vs

Fireball Beast 76mm longboard wheel
The Blood orange model is the best option for newbies while the Fireball beast model is for little rough riders. Great stability, traction, and control are much needed for newcomers and if you are one of them then you can get started with the Blood Orange model.
On the contrary, if you have reached the intermediate phase now and want to step up your riding, then the Fireball beast model will be suitable. Having that said, the Fireball beast model is a little expensive than the Blood orange model.
7. Orangatang Stimulus 70 mm Freeride Longboard Wheels
If you often ride over bumpy rocky roads and looking for wheels that will serve you for a decent amount of time by withstanding those impacts, then you definitely want to have a deep look at the Orangatang Stimulus 70mm freeride longboard wheels. No matter how rocky or bumpy the road is, these wheels won't fail. Me saying that? No, the users are!
Let's move on to the construction of these wheels. The manufacturer has heavily constructed these wheels with high-rebound urethane which makes them withstand some heavy wear and tear. I have seen one user saying that these wheels outlasted his longboard deck, make sense though.
It comes with an offset design and a wide contact patch which offers great grip and traction. And since these are freeriding wheels, they surely give smoother riding experiences. How well these wheels are for sliding? For beginner level sliding, they are excellent. Thanks to the rounded outer and inner lips.
This 70mm wheel is very speedy and on top of that, you don't have to paddle much to gain a good speed, the acceleration ability of this wheelset is good as well.
Pros
Smoothest rides.
Speedy and gains speed faster.
Makes sliding easier.
The wheels look classy.
Offers nice traction.
Will serve for a decent amount of time.
Cons
Some user has found it a little expensive.
Not even for intermediate sliders.
8. Orangatang Kegel Downhill Cruising Wheels
Are you one of them who is looking for the best downhill longboarding wheels? I have this Orangatang Kegel 80mm cruising wheel for you. Do you need high rolling speed, grip, and balance?  Well, this wheelset has got all of them, literally! Besides that, this is one of the best longboard wheels for speed as well.
With 80mm diameter and 56mm width, these wheels not only offer you speed but highly balance as well. You will get the needed amount of traction with this wheel and the speed gain is also pretty fast. Along with that, you can expect slightly good sliding performance from this model too!
The manufacturer has used rebounded Urethane in the construction and that is what makes these wheels extremely stable. For good balancing, making sharp turns are not hard anymore. And do not worry if you will have to ride over bumpy and rocky roads, it is capable of withstanding some heavy wear and tear, thanks to the cantilevered outer and inner lip.
Pros
Good acceleration.
Highly versatile.
Offers a nice grip.
Smooth riding experience.
Can withstand some wear and tear.
Cons
Not for trick performances.
You might need risers.
Orangatang Stimulus 70mm freeride longboard wheels Vs Orangatang Kegel 80mm cruising wheel
Both of these models are coming from the same brand and is almost similar to one another. For people who are looking for a smooth-riding wheel with good wear and tear withstanding ability, both should fit in pretty nicely. That being said, compared to the Orangatang Kegel, the Orangatang Stimulus has better durability and impact withstanding ability. Hence that is a little expensive as well.
9. Eprocool Skateboard Wheel
Well, before you proceed any further let me warn you, this Eprocool Skateboard Wheel is not a high-quality model. It is cheaply made and only good for beginner longboarders. If you are new to skateboarding and just won't get started with a set of wheels, then go along with this Eprocool Skateboard Wheel.
These wheels are not durable. Since you are new, then you won't be a rough rider and are less likely to perform any kind of tricks or slides, and that is what makes this wheel model suitable for beginners.
Putting all the drawbacks aside, let's eye on the positives. First of all, these wheels look way too classy. I mean the color looks pretty cool. And on a smooth surface, you are going to have a great riding experience. Along with this, these wheels offer decent traction and grip as well. They come in different colors allowing you to choose your preferred color.
Pros
Comes at a cheap price.
Offers decent grip and stability.
Looks classy.
Smooth rides.
Best for beginners.
Cons
Not durable.
Not for professional use.
10. MBS Cruiser Longboard Wheels
And finally here comes the last wheel of this review list and this one of the best longboard wheels for beginners. If you need just a simple wheelset to cruise around the city comfortably or want to learn to ride longboards, this MBS cruiser longboard wheel is a great choice. And the price is on the inexpensive side as well.
These wheels offer great traction and grip which is much needed for a newbie rider. And along with that, it offers a decent amount of balance as well. That being said, according to few users, the wheels wear out after riding for a decent amount of time, and then it offers less to no traction at all.
You can expect a little bit of speed from these MBS wheels and comes with good acceleration as well. However, these wheels are not for long-lasting service, and riding on bumpy or rocky roads is completely prohibited if you want to use these wheels at least for a decent time period.
Pros
Reasonable price.
Offers traction and grip.
Good stability.
Smooth riding.
Best for beginner riders.
Cons
The wheel wears out faster.
Not for professional riders.
Eprocool Skateboard Wheel Vs MBS Cruiser

Longboard Wheels
These two-wheel models are only recommended for newbie riders or for those who just simply cruise around. For tricks, slides, rough ridings, these models are no got. They are less durable and don't offer needed traction or balance. So if you are looking for a beginner wheelset at an affordable price range, choose any of them!
How to Choose the Best Longboard Wheels?
To make your purchase more secure, I have demonstrated an in-depth buying guide as well. So before you think of purchasing a wheelset for your longboard or skateboard, consider the following factors. I can assure you, if not the best, you won't end up with the wrong wheels at least.
Diameter
A highly important factor to consider before buying wheels. Wrong diameter wheels will be meaningless causing you to buy another set of wheels. The length of the deck and the wheel's diameter has a close relationship. As a rule of thumb, the longer the deck the large the wheel diameter should be.
That being said, some professional riders challenge themselves by attaching small diameter wheels in the long deck. That surely will give them higher speed but very lower stability. And since they are pros, they don't need stability but that is a must for newbie riders.
On the other hand, you can't use higher diameter wheels with a small deck, which will cause wheel bite and will cause the longboard to stop suddenly. In other words, you are going to have the worst riding experience.
However, which diameter wheels should you choose? Let's find out. In case you don't know, the diameter of the wheels is measured by millimeters (mm).
60 to 67mm diameter wheels should be perfect for a deck below 34-inches.
68 to 72mm diameter wheels will be suitable for a 34 to 42-inch deck.
72 to 85mm diameter wheels are good for a 40-inch or above deck.
Durometer 
Durometer is the measurement of the hardness of the wheels. There are wheels that are soft and there are some which are hard, and how hard wheels are is indicated by the durometer. As a general rule, the harder the wheels means the higher the durometer, the faster the speed. That being said, the harder the wheels, the less grip they offer.
Generally, the longer and wider the deck, the softer wheels there should be. And the reason is, softer wheels come with better shock-absorbing ability than the harder wheels which offers great stability and balance to the rider.
And the heavier the riders the harder the wheels should be. Because if you are very lightweight, then there wouldn't be much pressure that will force the wheels to grip on the ground. On the other hand, if the rider is way too heavy then that will result in increased sensitivity. Even a small bump will be felt heavily.
There are two different measuring units. Most of the company utilizes the durometer by A scale. And the range goes between 1 to 100, the lower the number the softer the wheels are.
So here the main thing being, you should choose the wheel durometer depending on your weight and slightly on the deck size. Below I am demonstrating a chart for the easy pick!
| Weight of the rider | Wheels Durometer |
| --- | --- |
| 135 lbs. or below   | 75a to 80a |
| 135 – 175 lbs.     | 80a to 83a |
| Above 175lbs.   | 83a to 90a |
Shape
Wheels come in three different shapes and these shapes have a lot to do with the overall wheel performance. However, the shapes are,
Square edge.
Beveled edge.
Rounded edge.
There is another shape that looks pretty attractive and that is a wavy edge shape. This shape is rarely used, so we will leave that here.
Rounded edge shape: If you want to use your longboard only for sliding and carving, the rounded edge wheels will be a great choice for you, since they produce less friction on the surface. This shape wheel is suitable for beginner riders.
Square edge shape: This shape is highly popular because of the grip it offers. If you want a longboard that will run like wind, then consider choosing a set of square edge shape wheel. That being said, these shape wheels are not suitable for normal cruising and don't offer much balance.
Beveled Shape: This shape is the combination of the rounded edge and square edge wheel shape. Neither it is entirely rounded nor it is flat. However, these shape wheels bring a good contact patch.
Size of Contact Patch
Wondering what this is all about? Well, the contact patch is the wheel area that comes in contact with the ground. And the general rule is, the larger the wheels, the larger the contact patch should be. However, it is another highly important factor to consider before investing in longboard wheels.
The contact patch is what allows your wheels to run faster since it equally distributes the weight of the rider all over the large portion. And that is the reason for decreasing the Urethane compression in the wheels while decreasing the rolling resistance. The wheel's shape also affects the size of the contact patch.
Wheel core
When checking through the hundreds of wheels in the market, you may notice two different wheels, one is made of entirely Polyurethane core and one is made with a plastic core. How long your wheels will last and for how long you will keep having smoother rides, slightly depends on the wheel core.
When the wheels roll at higher speed for a longer period of time, the bearing gets extremely hot and that's pretty obvious. And there should be something that will pass the heat through the wheels in order to prevent any kind of deforming or melting. The core is the thing that takes care of the heat.
Also Read: Best Longboard Truck
F​​​​​aq:
What is the best longboard wheel for cruising?
There are a couple of wheel models that are suitable for cruising. But among all of the user has found the
OrangatangCaguama 85mm Longboard wheels to be very suitable.
Do bigger wheels roll faster?
The bigger your longboard deck is, the bigger the wheels should be. If the wheels are bigger than the deck, it will definitely cause wheel bite and the longboard will stop suddenly while riding.
Are bigger wheels better?
Yes, they do! But only bigger wheels are not going to work alone. If your wheels are bigger, then your deck also needs to be bigger. And the trucks need to be raised as well to avoid wheel bite.
Final word
Finally, here comes the conclusion! Throughout the entire article, my try was to help you choose the best longboard wheels for you. Hope it worked and if you have any kind of queries, do not hesitate to hit me up through the comment section. I'll get back to you as soon as possible. So with that said wrapping this article up!